Daily Updates: March 2000

S
M
T
W
T
F
S
1
2
3
4
5
6
7
8
9
10
11
12
13
14
15
16
17
18
19
20
21
22
23
24
25
26
27
28
29
30
31
Daily Updates: May 2000
S
M
T
W
T
F
S
1
2
3
4
5
6
7
8
9
10
11
12
13
14
15
16
17
18
19
20
21
22
23
24
25
26
27
28
29
30
31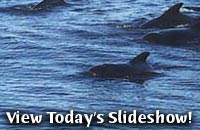 TODAY'S WEATHER
Partly Cloudy
86°F (30°C)
Latitude: 2 deg 8'N
Longitude: 97 deg 35'W
Wind Direction: n/a
Wind Speed: <1 Knot
Sea State: 1
Swell(s) Height: 3-4 Foot
Sea Temperature: 86°F (30°C)
Barometric Pressure: 1010 MB
Visibility: 10-25 Nautical Miles


Breakfast
Spinach & Jack Cheese Omelet
Oat Bran Muffins
pancakes & Sausage
Hash Browns & Hot Cereal
Eggs to Order
Fresh Pineapple and Mangoes
Dry Cereal
Juices

Lunch
Rolled Tacos
Rice & Beans
Nachos
Ensenada Soup
Salad Bar
Strawberry Jello

Dinner
Veal Parmigiana
Spaghetti with meat sauce
Fried Calamari
Spinach & Garlic
Fresh Baked Garlic Twists
John Boing Birthday Cake
Being Prepared
April 27, 2000
By Dr. Dan Fornari
Yesterday, we asked you to calculate how fast we are towing the DSL-120 sonar fish. Well, the answer is -- 1.6 knots (nautical miles per hour). Did you get it right?
We are now about half way through our survey of the Galapagos Rift valley floor in this area. We are busy processing and analyzing the data looking for evidence of young volcanic lava flows that will be the target of our rock sampling and Argo II surveying. That phase of our work will begin on Saturday. If you check out the image of the seafloor in today's slide show, you will see that it is much rougher and more complicated than the seafloor at our other study sites. That makes it more difficult to process our sonar data, so it takes us a bit longer to produce the images. But, by tomorrow, we will be able to show you some data.
Today, we enjoyed the company of several pods of pilot whales and playful dolphins. For most of the day, the pilot whales, and what we believe were bottlenosed dolphins, swam gracefully around the ship. At times, the dolphins jumped completely out of the water, did back-flips, and slapped their tails, as the pilot whales continued their slow graceful swimming around the ship.
While we survey, others on board work to keep the ship operating. When equipment has to be repaired, we have to be able to do it with what is on board. There are no hardware stores, repair shops, or other facilities that we can go to. We have to rely on the supplies we brought with us, and the skills and experience of the engineers, mechanics, and technicians on the ship. Today's slide show features several photos of the different equipment repair shops on the ship that house equipment and supplies needed to keep both RV Melville running properly, and the DSL-120 and Argo II survey systems collecting good data. Having the right shipboard supplies and tools, keeping them well-stocked from cruise to cruise, and having good people on board who have experience at fixing lots of different things is key to successful oceanographic research.