Explore our Hydrothermal Vent Interactives
Scientists Explain Hydrothermal Vents
Dr. Susan Humphris explains what hydrothermal vents are and why they're important.
Dr. Timothy Shank talks about the expedition to the original discovery site of hydrothermal vents and what they found, or didn't find.
Dr. Rob Reves-Sohn explains what the TAG mound is and what makes it unique in the world of hydrothermal vent fields.
Dive deeper into hydrothermal vent topics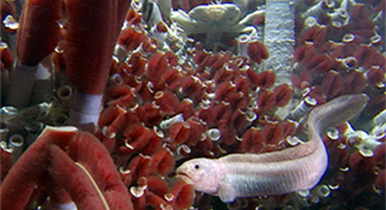 The Discovery of Hydrothermal Vents
A chronicle of what led up to the discovery of an entirely new Earth ecosystem in 1977.
What have you learned?
Take our quizzes and find out