Daily Updates: March 2000

S
M
T
W
T
F
S
1
2
3
4
5
6
7
8
9
10
11
12
13
14
15
16
17
18
19
20
21
22
23
24
25
26
27
28
29
30
31
Daily Updates: May 2000
S
M
T
W
T
F
S
1
2
3
4
5
6
7
8
9
10
11
12
13
14
15
16
17
18
19
20
21
22
23
24
25
26
27
28
29
30
31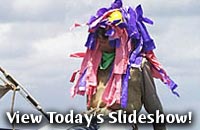 TODAY'S WEATHER
Partly Cloudy
87.8°F (31°C)
Latitude: 2 deg 14'N
Longitude: 98 deg 40'W
Wind Direction: n/a
Wind Speed: calm
Sea State: 1
Swell(s) Height: 2-4 Foot
Sea Temperature: 84.2°F (29°C)
Barometric Pressure: 1012 MB
Visibility: 10-25 Nautical Miles


Breakfast
Linguica and eggs
Bacon and sausage
Oatmeal and raisin cookies
Hash browns and hot cereal
Walnut waffles
Eggs to order
Mangos and melons
Dry cereal
Polywog Breakfast

Lunch
Pepperoni Pizza
Matzo ball soup
Buffalo wings
Polywog pizza
Salad bar
Hermit cookies

Dinner
Honey glazed dinner ham
Au gratin potatoes
Peek-n-beans
Vegetables and fresh dinner rolls
Salad bar
Chocolate cake a la mode
King Neptune and the Royal Court visit RV Melville
April 17, 2000
By Davey Jones
As the official scribe and reporter for His Royal Highness King Neptune, it is my duty to report that RV Melville crossed into the realm of the Equatorial Regions today. The Melville, with a fit and capable crew of noble Shellbacks on board, is one of Neptune's prized vessels used to investigate the secrets of the briny deep. Unfortunately, there was also a contingent of scurrilous Pollywogs on board -- people who have never crossed the Equator before on a ship.
Only Shellbacks are authorized to ply the sacred waters of King Neptune's briny realm. So this afternoon, Captain Buck welcomed King Neptune, his Queen, and the Royal Court, as they boarded Melville for the Equator Crossing ceremony to rid the ship of the Pollywogs.
The Pollywogs were required to clean the ship thoroughly from bow to stern, and measure its length with both a squid and a flying fish (268 squid lengths and 210 flying fish lengths). They then entertained the Royal Court with songs and skits. The sacred ceremony was performed as RV Melville traveled through the glassy tropical waters at 12.5 knots. Magically, the transformation was accomplished, and Melville now sails towards the Galapagos Islands with only noble Shellbacks on board.
Official Record of the Sea Chantey recited by the Pollywogs to entertain the Royal Court:
I was born on the crest of a wave,
Rocked in the cradle of the deep.
My father is King Neptune, my Mother a mermaid,
My eyes be stars, my teeth be spars,
And when I spit, I spits tar, Argh be Argh!