Daily Updates: March 2000

S
M
T
W
T
F
S
1
2
3
4
5
6
7
8
9
10
11
12
13
14
15
16
17
18
19
20
21
22
23
24
25
26
27
28
29
30
31
Daily Updates: May 2000
S
M
T
W
T
F
S
1
2
3
4
5
6
7
8
9
10
11
12
13
14
15
16
17
18
19
20
21
22
23
24
25
26
27
28
29
30
31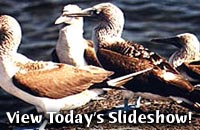 TODAY'S WEATHER
Partly Cloudy
82.4°F (28°C)
Latitude: 0 deg 45.12'N
Longitude: 90 deg 17.83'W
Wind Direction: n/a
Wind Speed: calm
Sea State: 0
Swell(s) Height: 2-4 Foot
Sea Temperature: 84.2°F (29°C)
Barometric Pressure: 1012 MB
Visibility: 10-25 Nautical Miles
At anchor in the Galapagos Islands
April 19, 2000
By Dr. Susan Humphris
This morning, the RV Melville sailed into Santa Cruz Island, one of the main islands in the Galapagos archipelago. She set anchor in Academy Bay where she will remain until Thursday evening. Check out the slide show for some pictures of the island and the wildlife that the scientists have seen so far. Tomorrow, they will go on a field trip and visit the Charles Darwin Field Station -- we expect more great slides of the island!
You may be wondering why I am writing this update from Woods Hole Oceanographic Institution. As you know, the scientists are sending the updates and slide shows using the SeaNet satellite. While they are at sea, the ship has a clear "line of sight" to the satellite at all times. But, while they are at anchor in Academy Bay, the ship swings as the wind, tides and currents change. In certain positions, the land blocks the ship's "line of sight" to the satellite. When that happens, the transmission doesn't get through. Jim Charters was able to get the slide show of their arrival transmitted to us before the RV Melville swung round into a position where they could no longer "see" the satellite.
Everything will be fine again by tomorrow evening, when they leave Academy Bay to sample the submarine parts of Fernandina Volcano. Then they will be on the open ocean, and once again, able to "see" the SeaNet satellite!