Daily Updates: March 2000

S
M
T
W
T
F
S
1
2
3
4
5
6
7
8
9
10
11
12
13
14
15
16
17
18
19
20
21
22
23
24
25
26
27
28
29
30
31
Daily Updates: May 2000
S
M
T
W
T
F
S
1
2
3
4
5
6
7
8
9
10
11
12
13
14
15
16
17
18
19
20
21
22
23
24
25
26
27
28
29
30
31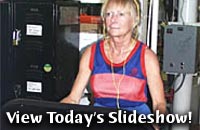 TODAY'S WEATHER
Partly Cloudy
86°F (30°C)
Latitude: 3 deg 20'N
Longitude: 102 deg 13'W
Wind Direction: NE
Wind Speed: 12 Knots
Sea State: 1
Swell(s) Height: 4-6 Foot
Sea Temperature: 82.4°F (28°C)
Barometric Pressure: 1010 MB
Visibility: 10-25 Nautical Miles


Breakfast
Egg McMelville
Cinnamon raisin french toast
Banana nut bread
Hash browns and hot cereal
Bacon and sausage
Eggs to order
Mangos and melons
Dry cereal

Lunch
Bratwurst with sauerkraut and onion
German potato salad
Crab bisque
Peas and pimento
Salad bar

Dinner
Fish and chips
Fried shrimp
Black bean chili
Vegetables and fresh baked bread
Blueberry crisp a la mode
Dredging for glassy seafloor lavas
April 7, 2000
By Dr. Dan Fornari and Julia Getsiv
Mike Perfit and Dan Fornari haven't been getting much sleep lately! Mike had been up all night dredging for rocks, so Dan took over at about 0600 hours as yet another dredge was being dragged over the seafloor. Suddenly, the dredge got "hung up" or caught on the seafloor -- and there we were, anchored to the seafloor in the middle of the ocean! When this happens, the first thing to try is turning the ship around and slowly traveling back the other way. As the mate on the Bridge turned the ship around, Dan and Ron Comer, the Resident Technician, coaxed the trawl wire in, meter by meter. The tension on the wire reached about 10,000 pounds and the winch even stalled a few times because we had to pull so hard. After about an hour, the dredge finally broke free. When it got to the surface, the dredge was full - about 400 pounds of pillow lavas!
What would have happened if we had not been able to get the dredge free by pulling on the dredge and maneuvering the ship? There is a "weak link" between the dredge and the wire. The weak link is held together by pins that will break when a predetermined amount of tension is put on the wire. If all else fails, we can break the weak link by pulling very hard on the wire. Although the dredge is left behind on the seafloor, the wire can then be pulled back in. Because we had to pull so hard to free the dredge this morning, Ron had to replace some of the pins on the weak link because they had started to bend!
Some of the students are feeling "under the weather"! The strong wind that we have had over the past few days has stirred up the seas, and some of the students are seasick. Seasickness makes you feel miserable. I remember the first time I went to sea 30 years ago on this same ship. I was so excited to be going to sea and doing oceanography, but we hit some rough weather off San Francisco. The seas were about 20 feet high, and I was sick as a dog! It is like being on a rollercoaster -- the ship pitches up high, you are weightless for a few seconds, and then you slam into the trough of the seas. Those are the times you think: "I'll NEVER go to sea again! I hate this...". But, after a few days, you get used to the pitching and rolling, and you learn to keep your feet spread wide apart so you are stable. Getting your sea legs every time you go out to sea is part of being an oceanographer.