Daily Updates: March 2000

S
M
T
W
T
F
S
1
2
3
4
5
6
7
8
9
10
11
12
13
14
15
16
17
18
19
20
21
22
23
24
25
26
27
28
29
30
31
Daily Updates: May 2000
S
M
T
W
T
F
S
1
2
3
4
5
6
7
8
9
10
11
12
13
14
15
16
17
18
19
20
21
22
23
24
25
26
27
28
29
30
31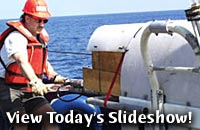 TODAY'S WEATHER
Partly cloudy
87.6°F (30.9°C)
Latitude: 9 deg 25'N
Longitude: 104 deg 12.5 'W
Wind Direction: W
Wind Speed: 5 Knots
Sea State 0
Swell(s) Height: 3-5 Foot
Sea Temperature: 84°F (28.9°C)
Barometric Pressure: 1011 MB
Visibility: 10-25 Nautical Miles

Breakfast

Frittatas
Cinnamon Rolls
Cooked breakfast- bacon, potatoes, sausages
Selection of tropical fruits
Assorted cereals

Lunch
Cheeseburger deluxe with grilled onion and bacon
Chili fries
Curried lentil soup
Chicken and Italian Garden Salad
Mexican Coleslaw
Salad bar
Homemade coconut and raisin cookies

Dinner
Eggplant Parmigiana
Linguini with clam and meat sauce
Fried calamari
Sautéed zucchini
Garlic bread
Salad bar
Lemon Meringue Pie
Dave Grimes catches a big mahi mahi, or dolphin fish. Dave slipped his appetizing lure amid a large school of mahimahi that was feeding on squid and small flying fish Thursday morning in the blue waters around RV Melville.
The fish are biting!
March 30, 2000
By Dr. Dan Fornari
The morning was balmy and the sea was calm, but on the starboard side of RV Melville, there was a frenzy of activity, both in the water and on deck. Dave Grimes, one of the Able Seaman (AB) on board, spotted a large school of mahi mahi that were feeding on squid and flying fish. We could see the flying fish scooting across the water, trying not to be eaten by the bigger mahi mahi. A few of the mahi mahi were not so lucky. Instead of having a nice squid breakfast, they were caught by Dave. He landed several of these beautiful and delicious fish. We are looking forward to dinner tomorrow night. Can you guess what will be on the menu? We ended the DSL-120 sonar survey today in this area of the East Pacific Rise crest. Everyone on board is tired, but we're also happy because our work has paid off. We collected a great set of data on the seafloor. The scientists on board will continue to stand their watches, working on the information we have gathered over the past three days. Our students are monitoring the ship's multibeam sonar system, which is gathering data to create new seafloor images as the ship moves over it. The students are also checking the DSL-120 sonar logs and editing the information they entered into the logging computer. Other people are processing the DSL-120 sonar data to produce final images of the seafloor terrain and high-resolution bathymetric maps (that is, highly detailed seafloor maps). We are headed to our next surveying site at 3°20'N, another site where the hydrophone array indicated an underwater volcanic eruption has recently occurred. We started at 1600 hours this afternoon. We have 416 nautical miles to go and we are making 12.5 knots (nautical miles per hour). When do you estimate we will get to our next survey area? I'll give an update tomorrow with our speed and how far we have left to go.