Daily Updates: March 2000

S
M
T
W
T
F
S
1
2
3
4
5
6
7
8
9
10
11
12
13
14
15
16
17
18
19
20
21
22
23
24
25
26
27
28
29
30
31
Daily Updates: May 2000
S
M
T
W
T
F
S
1
2
3
4
5
6
7
8
9
10
11
12
13
14
15
16
17
18
19
20
21
22
23
24
25
26
27
28
29
30
31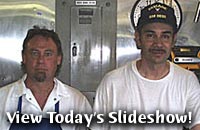 TODAY'S WEATHER
Blue skies with haze
77°F (25°C)
Latitude: 0 deg 27'S
Longitude: 91 deg 48'W
Wind Direction: n/a
Wind Speed: calm to light airs
Sea State: 0
Swell(s) Height: 3-5 Foot
Sea Temperature: 73.4°F (23°C)
Barometric Pressure: 1010 MB
Visibility: 5-10 Nautical Miles

Breakfast
Huevos Rancheros
French toast
Coffee cake
Cottage fries and hot cereal
Bacon and sausage
Eggs to order
Melon and mangos
Dry cereal

Lunch
BBQ Pork loin
Parsley potatoes
Spanish soup
Corn bread
Salad bar
Assorted cookies

Dinner
Chicken Fajitas
Rice and beans
Mexican corn
Jalapeno casserole
Salad bar
"Maya's Birthday Cake"- Carrot cake with homemade frozen peach yogurt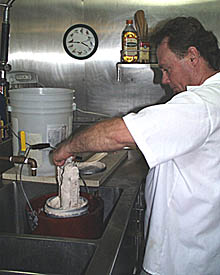 Eat It 'N' Beat It - Cooking for 50 on RV Melville!
April 22, 2000
By Dan Engelbrecht
Imagine stocking your kitchen with everything your family needs for 48 days -- and then try doing it for 50 people! That's a challenge -- especially with the limited storage space (called stowage) and refrigeration on board. There is never any wasted space; we pack supplies into every inch! After we load the ship at the beginning of each expedition, it can be quite difficult to find what you need. So, for the first week, meals tend to be made of whatever is easiest to get to!
Working as a Marine Cook is one of the most challenging jobs on board an oceanographic research vessel. Up at 5:30 every morning and on the go until 6 in the evening, the Cooks' day is one of the longest compared to other positions on the ship (except for the Chief Scientist, of course!). The cooks that are best at the job tend to be a little clairvoyant! They use their psychic abilities every day, deciding what to make that will keep everyone happy. The ship's schedule of watch standing, and the spirits of everyone on board, revolve around meals. Not only do meals have to be on time, but they also have to be yummy! This requires that the Cook be creative and serve meals on time -- 3 times a day, everyday. When it is mealtime, you had better be ready! Sore necks are a constant bother to us because we are constantly looking up at the clock to check the time! When the meals are over, the scientists and crew are expected to leave quickly so that clean-up can begin. We have a saying here in the galley -- "Eat it 'n' Beat it". I think I just like saying it!
Cooking is only about 60% of the job. From sweeping and mopping the mess hall and galley, to stocking coffee, sugar, and ice cream bars, the Marine Cook has plenty to do while at sea. But one of the most interesting challenges to a Marine Cook is shopping while visiting foreign ports. What you want and what you get are usually two different things! You learn to become multilingual as time goes on. Most of us don't know how to say "Where is the post office?" in another language, but we can ask "How much for the cucumbers?" Even more fun is trying to figure out what's inside a foreign-labeled package after it's been stowed awhile. You think you're opening a can of tomato sauce -- and you find that it's really apple sauce! Now, instead of having "Linguini with Marinara" for dinner, you're having "Linguini ala Manzana." Very creative, I think!
On board the RV Melville, we try hard to produce balanced meals to keep the scientists and crew healthy. Today, Marine Cooks are faced with an increase in "vegetarianism" among the scientific parties that come on board. Long gone are the days of "meat and potatoes"; now, it's "tofu and sprouts". What a difference a generation makes! However, we have a solution -- it's called "The Salad Bar". If you don't want the prime rib and crab legs, you can help yourself to one of many vegetable salads. Why someone wouldn't want prime rib and crab legs is beyond me!
During each expedition, the amounts of various food items that we use are pretty enormous! Here are just a few items and the amounts that will be consumed completely during this 48 day, 50 person expedition:
Eggs 360 dozen (that's 4320!)
Juices 240 gallons
Milk 144 gallons
Flour 360 lbs.
Sugar 220 lbs.
Coffee 192 lbs.
Rice 150 lbs.
Lettuce 288 heads
Potatoes 650 lbs.
Ice Cream Bars 1152 (Wow!)
Keep in mind that these are just 10 of over 850 that we use, and that have to be ordered again when stock is low. So how big is your grocery list when you go shopping? Because we spend lots of money on groceries, we have to "buy smart". For example, buying pineapples in Hawaii is smart; buying coconuts in Alaska is not! Whatever port the Melville is in, for the Marine Cook: "It's not just a job...it's an adventure!"