Daily Updates: March 2000

S
M
T
W
T
F
S
1
2
3
4
5
6
7
8
9
10
11
12
13
14
15
16
17
18
19
20
21
22
23
24
25
26
27
28
29
30
31
Daily Updates: May 2000
S
M
T
W
T
F
S
1
2
3
4
5
6
7
8
9
10
11
12
13
14
15
16
17
18
19
20
21
22
23
24
25
26
27
28
29
30
31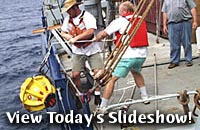 TODAY'S WEATHER
Partly cloudy
80.6°F (27°C)
Latitude: 3 deg 19'N
Longitude: 102 deg 13'W
Wind Direction: NE
Wind Speed: 12 Knots
Sea State: 2
Swell(s) Height: 4-6 Foot
Sea Temperature: 84.2°F (28°C)
Barometric Pressure: 1011 MB
Visibility: 10-25 Nautical Miles


Breakfast
Crab omelets
Cottage fries and hot cereal
Oat and raisin muffins
Pancakes and sausage
Eggs to order
Mangoes and melons
Dry cereal

Lunch
Chile Rellenos
Beef tamales
Rice and beans
Quesadillas
Benito Jurez soup
Salad bar
Oatmeal cookies

Dinner
Rib eye steak
Baked potatoes
Baked beans
Grilled mushrooms and onions
Asparagus sauté
Fresh dinner rolls
Salad bar
Ben's birthday cake (even though it's not his birthday!)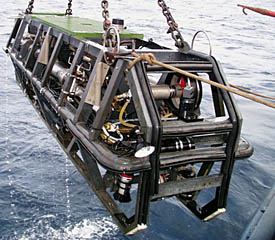 "Planets" sent to the seafloor
April 9, 2000
By Dr. Dan Fornari
We celebrated the completion of our work at the 3° 20'N on the East Pacific Rise by sending several hand-blown glass "Planets" made by artist Josh Simpson to the bottom of the ocean (see the slide show for pictures). For the past five years, Dan has been leaving Josh's "Planets" at many places along the mid-ocean ridges of the Atlantic and Pacific Oceans. Josh's "Planets" reflect his view of the Earth's beauty and how the many different environments on Earth are unique in the known universe. He thinks of his "Planets" as artifacts that are left for future generations to find, like the glass ampoules found in the Pharaohs' tombs in Egypt.
Dan Fornari met Josh 20 years ago when Dan was in graduate school and Josh was starting his career as a glass-blower. Josh lives in the hills of western Massachusetts. He began making "Planets" in 1979 after inviting 8th graders from schools in his area to his studio to watch him blow glass. Every Wednesday afternoon, he would work with a new group of kids. He discovered that marbles and other glass spheres were something that they could relate to, so he started making colorful glass spheres with patterns of cats' eyes, swirls, and trapped air bubbles. They were challenging to make, but they fascinated kids and adults alike. His "Planets" evolved from those early concepts. They are now sold in craft and museum shops throughout the US and abroad. For more information on Josh's work, check out his website at: http://www.megaplanet.com.
Under hot and hazy skies, we have been "cleaning up" the ocean floor as we are ready to move on to our next site. Tom Crook sent the acoustic commands to each of the three seafloor transponders that we have been using to navigate to tell them to release their anchors and float to the sea surface. All three transponders "listened" to Tom and did exactly what he told them to do! The mates on Melville's bridge expertly maneuvered the ship alongside each transponder, and we hoisted them back on board.
We took four more rock cores with "Mighty Mo" and then, at about 1900 hours local time, we headed off towards our next survey area located at 1° 40'N latitude and 102° 17'W longitude on the East Pacific Rise crest. There we will look for an eruption that the Autonomous Hydrophone Array detected in June of 1997. We should be there tomorrow -- join us!