Daily Updates: March 2000

S
M
T
W
T
F
S
1
2
3
4
5
6
7
8
9
10
11
12
13
14
15
16
17
18
19
20
21
22
23
24
25
26
27
28
29
30
31
Daily Updates: May 2000
S
M
T
W
T
F
S
1
2
3
4
5
6
7
8
9
10
11
12
13
14
15
16
17
18
19
20
21
22
23
24
25
26
27
28
29
30
31

TODAY'S WEATHER
Partly cloudy
80.6°F (27°C)
Latitude: 3 deg 37'N
Longitude: 102 deg 15'W
Wind Direction: n/a
Wind Speed: 0-1 Knots
Sea State: 0
Swell(s) Height: 4-6 Foot
Sea Temperature: 84.2°F (29°C)
Barometric Pressure: 1011 MB
Visibility: 10-25 Nautical Miles


Breakfast
Ham and cheese omelet
Cottage fries and hot cereal
Cinnamon raisin rolls
Bacon and sausage
Eggs to order and pancakes
Tropical fruit
Dry cereal

Lunch
Salisbury Steak
Mashed potatoes with gravy
Pepper pot soup
Pea pods
Assorted cookies
Salad bar

Dinner
Roasted pork tenderloins
Fried rice
Chicken wings
Vegetables and fresh baked bread
Salad bar
Neapolitan cream cake
"Feathers" couldn't possibly be flying the DSL-120 sonar fish-- could he?!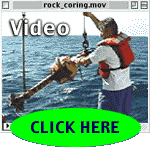 Wow! This is GREAT
April 12, 2000
By "Feathers"
Hi Folks! I can't tell you how much fun I'm having with the Pollywogs. They're showing me all sorts of neat stuff around the ship. It's much better than just hanging out on Dan's computer watching him tap, tap, tap all day, rushing around, and definitely not getting enough sleep. The Pollywogs are fine hosts, but they are a bit scatter-brained; I mean, who would let a bean-bag chicken fly the DSL-120 sonar? Oh well, it is a grand adventure, and I think eventually these rascal Pollywogs will put me back where I usually roost.
While all the dredging was going on last night, some of the Pollywogs got together and came up with these limericks. I hope you like them, and I hope you don't mind that I don't type more, but, you know, it's hard typing when you have only feathers and funny feet!
*Pollywog Limericks*
There was a chief scientist called Dan
Spent hours each day in the van.
Got a call from the bridge
"Are you mapping the ridge?"
"You Bet!" Said he "All I can".
A crewman looked awfully pale,
He was sad and terribly frail,
When asked what was wrong
He burst into song,
My chicken got snatched by a whale!
The Melville was miles out to sea,
Scientists happy as happy could be.
The seafloor below
They mapped with ARGO,
While the crew caught them fish aplenty!
*Sidescan sonar limericks*
With sonar we see the seafloor
As it's never been seen before.
We can see all the bumps,
And measure the lumps
Then collect our dredges by the score!
Another mound to starboard,
Another mound to port,
Fissures here and fissures there
Lovely lava everywhere.
But here's the big predicament
That all Geologists face
Was that a flow or an alien
We saw upon the trace!
*Rock sampling limericks*
Whilst sampling the deep ocean floor,
The dredge came up empty once more.
Mike was bemused
And Dan was confused
"It's never done that before!"
"It's not my fault" said Maya
"The new lava should all be right here,
We heard the tones from the hydrophones,
An eruption loud and clear"!
But where's all the new lava, glistening down below?
Pillows and cracks are all we see on ARGO's video.
"But wait, that bit looks darker",
Shouts Rachel from the van,
"This could be what we're looking for,
you'd better go get Dan".
"We'll have to get some samples" Dan exclaimed to Mike
"Good job I brought that rock core, we'll be needing it tonight"
Soon "Mighty Mo's" in action, bringing glass chips from the deep
It's a good thing Dan can function on less than 3 hours sleep!