Daily Updates: May 2003
S
M
T
W
T
F
S
1
2
3
4
5
6
7
8
9
10
11
12
13
14
15
16
17
18
19
20
21
22
23
24
25
26
27
28
29
30
31
Daily Updates: June 2003
S
M
T
W
T
F
S
1
2
3
4
5
6
7
8
9
10
11
12
13
14
15
16
17
18
19
20
21
22
23
24
25
26
27
28
29
30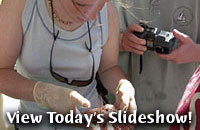 TODAY'S WEATHER
Partly Cloudy
74°F (23.3°C)
Latitude: 35° 27'N
Longitude: 61° 36'W
Wind Direction: SW
Wind Speed: 21 Knots
Sea State: 4
Sea Temperature: 74°F (23.3°C)
Swell(s) Height: 6 Foot
Barometric Pressure: 1018.5 MB
Visibility: Unrestricted


BREAKFAST
Orange French toast
Sausage links, Spam (r)
Scrambled eggs
Hash browns
Bagels
Oatmeal
Fruit

LUNCH
Ida's minestrone
Clark's Island burger
Bratwurst and Bourbon St. beans
Chunky seafood salad
Corn and pepper rice pilaf
Potato chips
Birthday cake
Gingerbread cake with Rogale icing
Fruit
Salad bar

DINNER
Boneless breaded pork chop
Crispy sole filet
Barley and orzo pilaf
French fries
Broccoli
Mixed vegetables
Corn bread
Blond brownies
Salad bar
Rock 'n' roll
June 9, 2003
By Joe Appel
We're already pining a bit for Muir Seamount. A day's transit north to the area around Rehoboth and Vogel Seamounts has been a day's travel away from relatively calm seas to…well, let's put it this way: I just put some duct tape on the bottom of my tea cup so it won't slide across the desk.

Yes, that's right, we're back into some unkind seas. Winds up around 20 knots, swells hitting 10 feet. Could be worse, but could be better, too. The boat is hurling side to side, which is much less fun than front to back. A couple of us have hit the seasickness medications. We're rockin' and rollin.'
Rock 'n' roll, in fact, is one of the best medicines out here. Music is everywhere on the ship, in a mind-boggling array of devices and environments. In the main science lab, someone's hooked up an iPod to a set of booming speakers, so that sorting corals becomes a dance set to music by Wilco or Beck.

On night duty, biologist Rhian Waller sits at her laptop, sifting through an endless stream of photographs of bio samples. Without Macy Gray on her headphones, would she go mad?

On the other side of the room, Co-chief Scientist Dan Scheirer has his headphones plugged into Sheryl Wheeler. If you could see his computer screen, jammed with a multitude of windows of maps, mapping programs, e-mail, and obscure geophysical data, you'd understand his need for Wheeler's soothing tunes.

Outside the lab, the sounds continue. Ordinary Seaman Kevin Threadgold is in the hallway or some corner on deck, painting a railing or grinding a burr or fixing a light. You know he's there before you see him, since he's always singing a tune you think you've heard before but you can't quite place.

If you go to the bridge for something, you're lucky if 3rd Mate Rick Bean is on watch. Rick's got great taste in blues. Sometimes it's B.B. King or Elmore James and you smile in recognition. Sometimes it's someone you don't recognize, and you smile even wider.

In the Alvin hangar, the crew's got their speakers hooked up to a 101-CD changer, so it's a bit of a crapshoot, especially if they've got the "random" button pushed. You're there grooving along to Bob Marley or Bob Dylan when all of a sudden they jolt you with some angry metal tune.

Me, I'm here finishing up for the night with John Coltrane getting me through it all. In jazz, as in all good music, as on RV Atlantis when the seas are churning, you never know exactly what to expect.