Daily Updates: May 2003
S
M
T
W
T
F
S
1
2
3
4
5
6
7
8
9
10
11
12
13
14
15
16
17
18
19
20
21
22
23
24
25
26
27
28
29
30
31
Daily Updates: June 2003
S
M
T
W
T
F
S
1
2
3
4
5
6
7
8
9
10
11
12
13
14
15
16
17
18
19
20
21
22
23
24
25
26
27
28
29
30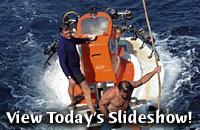 TODAY'S WEATHER
Partly Cloudy
74°F (23.3°C)
Latitude: 33° 47'N
Longitude: 62° 34'W
Wind Direction: SW
Wind Speed: 5 Knots
Sea State: 2
Sea Temperature: 72°F (22.2°C)
Swell(s) Height: 7 Foot
Barometric Pressure: 1017.0 MB
Visibility: Unrestricted


BREAKFAST
Eggs
Sausage patties
Homefries
French toast
Cheese/pepper omelets
Breakfast drive-by burgers
Bagels with cream cheese
Oatmeal
Assorted homemade coffee cake
Fruit

LUNCH
Red bean soup
Baked stuffed peppers in marinara sauce
Grilled cheese
Calypso fried fish with tartar sauce
Steamed rice
Corn chips
Vegetable sauté
Mars bars
Fruit
Salad bar

DINNER
Pizza night:
-garlic/cheese
-pepperoni
-veggie
-Canadian bacon/pineapple
Ice cream bars
Salad bar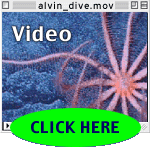 Back in the saddle
June 3, 2003
By Joe Appel
After a few days of cancelled dives and crummy weather, anything Alvin had brought up today would have been greeted with open arms. But today's dive was a bona fide success. Chief Scientist Jess Adkins was happy to point out that in a single day, all three of the Medusa Cruise's goals were met.

Goal #1, of course, is to find and retrieve lots and lots of Desmophyllum cristagalli corals, from many different depths. What we got today came from a 200-meter wide zone, but the fact that they were so widespread is a hopeful sign that other depths we dive to in the future will have them as well.
"Today was amazing," Jess said, "because everywhere we looked we found Desmophyllum cristagalli. That's important because we want to gain a sampling of corals from the entire water column." With results like the ones we got today, we can let the science—rather than an irregularly spaced collection of corals—drive where we go.

When the final count was completed tonight, more than 400 separate samples of Desmophyllum cristagalli had been labeled and stored for further research.

But that wasn't all. We also gathered specimens that help us reach other crucial goals of the expedition. For example, the divers today were able to grab stunning examples of live Gorgonian corals, as well as brittle stars. This kind of retrieval helps the scientists learn more about the seamounts' environment generally.

Lastly, today's dive will help with some general principles of coral-finding. In part by using maps created by ABE, the cruise's scientists are gradually gaining the ability to see a pattern in where Alvin has found corals and where it hasn't. This will help us accurately predict how and where to find fossil corals in the future—not just along the New England Seamounts, but anywhere in the world.