Daily Updates: May 2003
S
M
T
W
T
F
S
1
2
3
4
5
6
7
8
9
10
11
12
13
14
15
16
17
18
19
20
21
22
23
24
25
26
27
28
29
30
31
Daily Updates: June 2003
S
M
T
W
T
F
S
1
2
3
4
5
6
7
8
9
10
11
12
13
14
15
16
17
18
19
20
21
22
23
24
25
26
27
28
29
30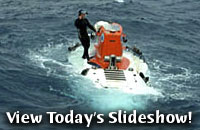 TODAY'S WEATHER
Mostly Cloudy
71°F (21.7°C)
Latitude: 38° 12'N
Longitude: 60° 32'W
Wind Direction: S
Wind Speed: 19 Knots
Sea State: 3
Sea Temperature: 70°F (21.1°C)
Swell(s) Height: 7 Foot
Barometric Pressure: 1010.0 MB
Visibility: 10 Nautical Miles


BREAKFAST
Scrambled eggs
Orange French toast
Omelets (cheese or vegetable)
Homefries
Spiced ham
Egg "McMuffins"
Streusel coffee cake
Oatmeal
Fruit

LUNCH
Island chowder
Egg rolls
Key West shrimp salad on fresh challah rolls
Mongolian grill beef tips
Grilled ham and cheese
Southwestern vegetable casserole
Steamed rice
Chicken "McNuggets"
Homemade Mediterranean cookies
Fruit

DINNER
Spaghetti
Meat sauce
Mild Italian sausage
Meatballs
Chicken ravioli in rosemary alfredo sauce
Green beans
Roasted onions, garlic, mushrooms
Herbed focaccia
Chocoholic pecan brownie
Big score
May 30, 2003
By Joe Appel
Today's excitement started early. By 6:50 a.m., ABE had returned from its nighttime journey. Less than 20 minutes later, ABE guru Dana Yoerger had put together maps of the area ABE covered. He brought them up to the mess, where Chief Scientist Jess Adkins and Co-chief Scientist Dan Scheirer were eating breakfast before their Alvin descent with pilot Bruce Strickrott.

It was then time for Alvin to go down. The ABE maps came along for the ride. As it turned out, they wouldn't be needed today. But there's only one reason for that: the weather, which forced Alvin to re-surface 3 hours earlier than had been planned.
The weather was growing increasingly stormy as the morning went on. At 10:45 a.m., approximately 2 1/2 hours after Alvin dipped beneath the surface of the ocean, Ship Captain Gary Chiljean came up to the bridge and uttered a single sentence: "Weather's turning bad," he said.

The culprit was the wind. Expedition Leader Pat Hickey radioed to pilot Strickrott, "Winds getting high, swells increasing. In all likelihood, we're going to abort you in a couple minutes."

In fact, Hickey gave the sub another 30 minutes before issuing the command to abort.

"It wasn't a hard decision," Hickey said later. "You take one look out there, say, 'This is bad. Bring 'em up.'"
The waves were rolling enough when Alvin re-surfaced that the recovery took longer than usual.
But once the sub and its passengers were safely aboard, the mood changed from one of quiet tension to exhilaration. In only two hours along the ocean floor, Strickrott, Adkins and Scheirer had filled the sub's collection basket with a number of the grand prize: fossil corals.
"The most important thing about today is that we got our face on the seafloor," Adkins said. "And then, that we were able to get ourselves to a variety of locations. And then, that we got our hands on the goodies."
The grand goodie is the mushroom-shaped Desmophyllum cristagalli, but also some Solenosmilia variabilis, an interconnected mass of tubes.

"The key," said Adkins, "is that we got them as fossils. We know this because they're covered in black manganese crusts, which can accumulate only over time, after the coral has died."
All the scientists who hovered around the collection basket were as excited as Adkins. "It's a huge win," said scientist Selene Eltgroth, "because it was a very short dive but they still came back with really good things. That suggests that there's a lot more down there."

As for ABE's maps, cutting the trip short meant they could not be fully utilized. "But tomorrow's dive," Adkins promised, "is based entirely on the ABE maps."

Late Friday night, the seas were still raging pretty hard. The decision of whether the next day's scheduled dive would happen was left to the only real authority out here: the wind.