Expedition 9 Cruise Dates
MAY
S
M
T
W
T
F
S
1
2
3
4
5
6
7
8
9
10
11
12
13
14
15
16
17
18
19
20
21
22
23
24
25
26
27
28
29
30
31
JUNE
1
2
3
4
5
6
7
8
9
10
11
12
13
14
15
16
17
18
19
20
21
22
23
24
25
26
27
28
29
30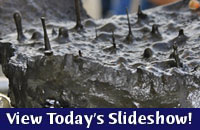 Today's Weather
Overcast, Mostly Cloudy
Lat: 00° 48.39N
Long: 086° 13.8W
Wind: SSW
Sea State: 3
Swell Height: 3-6ft
Baro Press: 1008.7mb
Air Temp: 24.5°C 76.2°F
Sea Temp: 26.6°F 79.8°F
Vis: 7-9nm

Working at the Alvin Car Wash
June 1, 2005
By Amy Nevala
Grab the buckets and soap—it's time to scrub the sub.
Dried on salt, grime, and the remains of doomed crabs and other sea life that hitch rides to the surface leaves Alvin in need of a good washing. Today, moments after the sub returned to Atlantis, Alvin pilots kicked off their traditional "skins party," that follows the last dive of every expedition.
The party takes its name from the removable fiberglass skins that shield dozens of electronic and mechanical systems from hot, chemical-rich fluids at vents, and bumps with rocks. Still, wayward crabs, jellyfish and the occasional fish still manage to sneak into the sub's nooks and crevices.
"We want them out of there," said pilot Mark Spear. "Otherwise it can get stinky."
Without its large white skins, Alvin takes on a whole new appearance. More than 700 feet (210 meters) of black, red, yellow, and mint-colored tubes, all filled with oil to protect wires inside from pressure at depth, connect a variety of bolted-on metal boxes. Expedition leader Pat Hickey explained that each box contains various batteries, motors, and ballast systems.
Today's cleaning offered a glimpse of the exhaustive, careful maintenance requirements met by the Alvin group each day to keep the sub safe and working properly.
Maintaining the sub's electronic, electrical, and mechanical components requires at least five hours of work daily. Every three months—or every 25 to 30 dives—the sub undergoes maintenance and inspection. The most rigorous care taking happens every 3 to 5 years, when the sub enters a six month overhaul in Woods Hole on Cape Cod.
"Literally every component is taken apart, for cleaning and examination," Pat said.
In the 41 years since Alvin was constructed, every bolt, filter, pump, valve, circuit, tube, light, and battery has been replaced at least once, said expedition leader Pat Hickey. Some wore out. Others were damaged then replaced or reconditioned. In 1967, a mechanical arm was reinstalled after it was lost on a rough recovery. In 1971—the same year the first female scientist dived in the sub—a large blue marlin attacked Alvin while diving in the Bahamas, damaging the sail (the little tower on top of the submarine) and underwater lights.
On our expedition we've had better luck. "We had some normal wear and tear that we were able to take care of as we went along," Pat said. "From what we saw today, everything is looking good."
---
Read the new interview

Shipboard Computer Technician Kazumi Baba Shibata: Kazumi, a native of Japan, joined the Atlantis crew one year ago. She practices speaking English daily and is even learning slang when she's not maintaining the ship's computers. On this expedition she is also learning how to handle lines during Alvin launch and recovery. Read the interview »
---
Learn more about Alvin (from Hot Topics)
What Is It Like To Go Down In Alvin?
From Expedition 2: So you want to dive to the bottom of the ocean in a submarine? Better bring your wool hat, because it is cold down there. Begin your dive »

Keeping the "Big O" Out of Alvin
From Expedition 1: Alvin pilot BLee Williams explains the dangers of using electricity in the ocean. Read the article »
---
Mail Buoy
Do you have questions about oceanographic research, hydrothermal vents, or about what it is like to work on board a ship? E-mail your questions to the scientists working on board RV Atlantis at divediscover@atlantis.whoi.edu. Please tell us your town and state, and keep your messages short with no attachments. Read today's mail »