Expedition 9 Cruise Dates
MAY
S
M
T
W
T
F
S
1
2
3
4
5
6
7
8
9
10
11
12
13
14
15
16
17
18
19
20
21
22
23
24
25
26
27
28
29
30
31
JUNE
1
2
3
4
5
6
7
8
9
10
11
12
13
14
15
16
17
18
19
20
21
22
23
24
25
26
27
28
29
30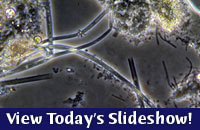 Today's Weather
Partly sunny
Lat: 00° 48.48N
Long: 86° 13.59W
Wind: SSE
Sea State: 3
Swell Height: 3-5 ft
Baro Press:1011.6 MB
Air Temp: 24.0°C 75.2°F
Sea Temp: 25.4°C 77.7°F
Vis: 8-10nm
Fishing Expedition
May 25, 2005
By Amy Nevala
Fishing is simple, right? Bait a hook, lower it into the water, and wait for a bite. But try catching fish that live a mile and a half (2,400 meters) below the surface, at the bottom of the ocean.
"Another day and no fish," biologist Kate Buckman said with a sad shake of her head after hearing that divers in Alvin were returning to the ship without fish in the basket after visiting the Rosebud hydrothermal vent field. Kate studies how fish have adapted to the harsh conditions at hydrothermal vents, where they live in total darkness and are subjected to toxic, chemical-rich fluids seeping from the Earth.
"At the vent sites it's easier to get tubeworms or clams than fish, so scientists haven't sampled and studied fish as much as other organisms," she said.
For the last four dives we have been trying to catch fish living at the Galapagos Rift. One, called zoarcid, is white and tends to swim among clumps of tubeworms. The other, bythitites, has a round head and a purple body, and prefers to hover over vents, nose down into the fluids. Instead of bait and hooks, pilots suction the fish using a vacuum-like hose attached to Alvin known as the "slurp."
But the slurp has been in a slump. Yesterday a lemon-sized mussel somehow jammed the slurp, weakening the suction that draws fish into a box for transport to the surface. The day before that, "they just kept swimming away," said geochemist Susan Humphris, who was in Alvin as they tracked the fish.
"We tried to sneak up behind them with the end of the hose, put it near their tail, and switch on the slurp," Susan said. "As soon as we did, they wiggled and took off."
Kate, however, is patient. After multiple research expeditions on Atlantis to the Galapagos Rift and the East Pacific Rise, Alvin pilots have caught two zoarcids. But bythitites have proved more elusive. When she does get one, she said she would be interested in learning more about what they eat and more about its ecology; specifically, its role and function within the vent community.
Her interest in fish began on Lake Warren in New Hampshire, close to where she grew up. "I would hold my breath as long as I could to watch sunfish and perch swimming underwater," she said. In middle school she took summer courses at local colleges to learn about marine biology.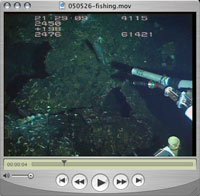 Quicktime Movie »
Windows Media Player »
We have been trying to catch fish living at vents on the Galapagos Rift for Kate Buckman's biology research, but the slurp on
Alvin
used to suction them has been in a slump. Here, purple fish called
Bythites hollisi
escape the slurp.
"Think about all the varieties of fish in the sea, and how they are different in so many ways, from sharks in the deeper ocean to parrotfish on coral reefs," she said.
Chief Alvin pilot Bruce Strickrott said that fish usually aren't so tricky to slurp. "An octopus is actually much harder to get because it can move a lot faster," he said. "And octopi are smart. They know how to climb out of the hose and escape." He's not giving up on getting a fish for Kate by the end of the expedition.
"If we don't get one soon with the slurp," Bruce said "we're going to try using a net."
---
Read the new interview
Rhian Waller: Rhian has advice for students like her, who struggled in school—especially math. "Enjoy what you do and be enthusiastic, which will help you through the tough spots." At age 26, Rhian has become a doctor who studies deep-sea organisms living in exotic places like the Galapagos Rift. Read the interview »
---
Mail Buoy
Do you have questions about oceanographic research, hydrothermal vents, or about what it is like to work on board a ship? E-mail your questions to the scientists working on board RV Atlantis at divediscover@atlantis.whoi.edu. Please tell us your town and state, and keep your messages short with no attachments. Read today's mail »
---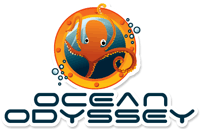 The FIRST LEGO League is exploring one of our planet's most precious resources. It turns out that the biggest thing in the world is really quite fragile and in trouble. Sending out an S.O.S. to all FLL teams! Register in 2005 to answer the ocean's distress call.