Expedition 9 Cruise Dates
MAY
S
M
T
W
T
F
S
1
2
3
4
5
6
7
8
9
10
11
12
13
14
15
16
17
18
19
20
21
22
23
24
25
26
27
28
29
30
31
JUNE
1
2
3
4
5
6
7
8
9
10
11
12
13
14
15
16
17
18
19
20
21
22
23
24
25
26
27
28
29
30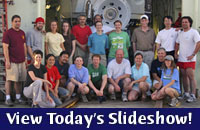 Today's Weather
Mixed sun and passing rain
Lat: 07° 40.88N
Long: 085° 15.24W
Wind: ESE
Sea State: 2
Swell Height: 2-3ft
Air Temp: 26.9°C 80.6°F
Sea Temp: 28.9°C 83.9°F
Vis: 9-10nm



Download PDF file of word search
Download PDF file of the solution



Making it to the Rose Bowl
June 3, 2005
By Amy Nevala
The three divers in Alvin were gliding down a slope when a trail of fresh, glassy lava appeared. Following the black rock like a seafloor highway, they came upon an oasis of life.
"It surprised us," said volcanologist Adam Soule, who was in the sub for the final dive of the expedition. Though he and fellow researchers had spent many caffeine-fueled nights with a towed camera system searching for evidence of undiscovered vent sites on the Galapagos Rift, they weren't expecting to find a site in this particular spot.
Throughout history, when explorers and pioneers on land have discovered a new mountain, valley, or river, they have named it. The sea is no different. Ring-shaped, with a sunken center about 30 feet (ten meters) in diameter, the site Adam helped to find had a distinct look.
So as a nod to a nearby vent site, Rosebud—and another vent field, Rose Garden, covered by erupting lava three years ago—he christened it Rose Bowl.
We will leave further exploration at Rose Bowl for another expedition. Early tomorrow we expect to arrive in Costa Rica. For Adam and the other scientists on board, many months of work lie ahead, analyzing chemical, biological and geological samples collected during the cruise.
The biology team worked up to 17 hours daily during most of the expedition. They will return with more than 1,000 preserved or frozen samples. These include at least 50 species of adult and juvenile crabs, snails, limpets, tubeworms, mussels, leeches, and one purple fish.
To complement the biologists' work, geologists took images of the seafloor, capturing more than 14,000 shots with the towed camera system.
One thousand additional shots, taken with a downward looking camera mounted on Alvin, will be carefully sequenced by Yuri Rzhanov to create a detailed seafloor map, called a mosaic, of Rosebud.
This team also collected and described 341 pounds (155 kilograms) of lava. On shore they will analyze the chemical composition of the glassy outer surfaces.
The four chemists on Atlantis will return to the University of Minnesota, confident that instruments they came to test worked for days at a time in the bacteria-rich vent waters of the Galapagos Rift. Their next step is to test them over a period of weeks during an August expedition off Washington and Oregon.
Finally, microbiologists from The Institute for Genomic Research in Maryland, will return with bacteria they sampled from exterior surfaces of vent animals and rocks. Their work will shed light on the role bacteria play as a food source and in the cycling of elements such as carbon and sulfur.
Numbers tell a story of our time at sea. The submersible Alvin made 11 dives and Atlantis traveled 1,500 nautical miles, using 62,000 gallons of fuel. We used 40,000 gallons of water. We ate one ton of food, including bagels, bananas, chocolate, cheese, oatmeal, peppers and plums.
As Atlantis steams back to Costa Rica, scientists said through exhausted smiles that they are happy with their work. No one was injured, and despite a few scrapes and some seasickness, nearly everyone stayed healthy (though maybe a few pounds heavier from extra pieces of Steward Carl Wood's triple chocolate brownies, and cook Al Dalomba's fresh bread).
On the fantail, Alvin is already undergoing cleaning and maintenance for its next expedition to the Costa Rica trench. Except for chief pilot Bruce Strickrott, who is off on a nine-week whirlwind vacation in the U.S. and Costa Rica, all members of the Alvin group will remain on Atlantis for the next cruise.
And 500 miles (800 kilometers) to the south, nearly two miles (3.2 kilometers) beneath the surface of the ocean on the Galapagos Rift, microbes grow, tubeworms flourish, and discoveries remain to be made for future research expeditions.
Until then, thanks for joining us.