Interview: Shipboard Computer Technician Kazumi Baba Shibata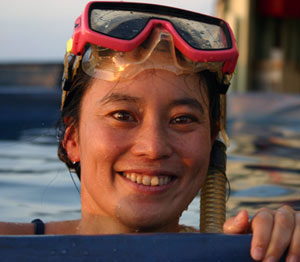 Kazumi, a native of Japan, joined the Atlantis crew one year ago. She practices speaking English daily and is even learning slang when she's not maintaining the ship's computers. On this expedition she is also learning how to handle lines during Alvin launch and recovery.
How did you become interested in the ocean?
I grew up in Sapporo, Japan, a big city not far from the ocean. At Hokkaido University I studied fisheries and oceanography and went on for my graduate degree in physical oceanography. Initially I got into studying the ocean by chance; the first class I took was a requirement of my university. The ocean impressed me from the first time I saw it. It symbolized another world.
What was your first job working on ships?
After graduate school I started working as a technician assisting with seismicity research for the Japan Agency for Marine-Earth Science and Technology (JAMSTEC). I did that for six years. A few years into it, I started working in an office, and I became bored. Then at a conference I met Barrie Walden (of WHOI) and I told him I was interested in working in the United States. It just seemed so different to me.
What was the appeal of the U.S.?
Japanese baseball players like to come to the United States for the same reasons I did: There is more independence and freedom. In Japan it seems like people have to get permission to do so many things. I also like the "can-do" attitude possessed by many people here, especially the Alvin group. I feel happy to be working for their team.
What has it been like to adjust to American culture on board a research vessel?
At first I was not accustomed to calling people by their first names—even the captain and chief scientists. In Japan it is more formal; we call people by their last name, followed by their title (such as "doctor"). I also missed Japanese food. But the cooks make sushi sometimes and it turns out well. I also miss my husband. He's still working as a technician for JAMSTEC. Depending on my schedule I get to see him every few months. I didn't know English before I came here, so I've had to learn on the ship. People have been very kind about that. One of the seaman, Kevin Threadgold, teaches me in the evenings. I love the music of Shania Twain so he downloads lyrics and we go through the words so I can learn them. Other crewmembers teach me slang. There are so many phrases I hear that aren't in my dictionary (such as "what's up?").
What is your job on the ship?
I am one of two people on board with the title SSSG technician, which stands for Shipboard Science Services Group. I work to maintain the ship's computers and assist the scientists when they come on board by providing technical support.
I notice that you have expanded your responsibilities on the cruise by training to assist the Alvin group in handling lines during launch and recovery of the submersible. What has that been like?
There's a lot to do for the Alvin group when they launch and recover the sub, so I help them do things like attach or remove safety lines, or retrieve tools if needed. It's fun because I work independently doing my other job on the ship, so I like being part of a team. When I'm helping them it gives me a better understanding of their responsibilities, and helps me practice communicating.