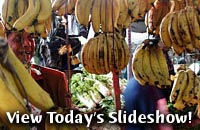 TODAY'S WEATHER
Clear
88°F (31°C)
Latitude: 20 deg 10'S
Longitude: 57 deg 29.8'E
Wind Direction: E
Wind Speed: 8 Knots
Sea Temperature: 85°F (29.4°C)
Barometric Pressure: 1013.1 MB



Daily Update: Hard work today, steaming east tonight
March 30, 2001
By Amy Nevala
Stopping only for meals and water, the ship's crew and the DSOG team logged another sweaty, 14-hour day. They assembled and loaded several tons of equipment littering the dock in preparation for our night departure.
Despite their non-stop effort, a lot of work remains for the DSOG team during our two and a half day steam to the first research site. Installing video cameras, testing thrusters aboard Jason and assembling electronics on the vehicles are just the beginning.
"We still have a list of things to do this long," said Jason's chief pilot Will Sellers as he stretched out a grease-smudged arm.
Inside the ship, the scientists secured equipment for sea. Laptops stick to tables with duct tape and Velcro. Bungee cords wrap video monitors and printers. Padding under everything prevents bumps and slides. A loose monitor or other heavy gear could easily tumble off a bench and ruin someone's day - or their toes.
With a month of research ahead, organization is key to accomplishing the scientific goals of the cruise. Frequent meetings between the scientists, the DSOG team and the Knorr's crew will help us stay on track. Before dinner, we gathered in the main lab to discuss Jason operations and plan scientific activities for the first few days of the expedition.
A purple and orange sunset lit Port Louis this evening, our last glimpse of land for 30 days. By 2200 hours (10 pm for you landlubbers) Knorr's engines will fire up and our bow will point away from Mauritius. Tonight we steam east to the hydrothermal vents of the Central Indian Ridge.