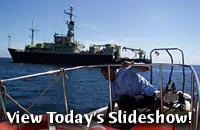 TODAY'S WEATHER
Clear
81.8°F (27.7°C)
Latitude: 19 deg 16.5'S
Longitude: 57 deg 18'E
Wind Direction: E
Wind Speed: 14 Knots
Sea State 3
Swell(s) Height: 3-5 Foot
Sea Temperature: 83°F (28°C)
Barometric Pressure: 1014 MB
Visibility: 18+ Nautical Miles

Daily Update: On our way - almost


March 27, 2001
By Amy Nevala

We are excited about 40 days of hydrothermal vent research in the Indian Ocean, but had to veer slightly from our original plans when we arrived at the Seychelles Islands.

Seventy tons of pre-shipped microscopes, winches and underwater vehicle equipment failed to be delivered in time for our departure. Without the supplies, we cannot do our research. After talking to the shipping company holding our equipment, we decided to intercept it in the capital Port Louis on Mauritius Island, three days and 940 miles south of the Seychelles.

The next few days on this tropical island will be busy. First the ship's crew will use cranes to lift the giant metal shipping containers holding the gear. Each container is the size of a delivery truck. The supplies, weighing more than 70 tons, are equal in weight to about 12 elephants. Once the containers are on board, we will unload them and set up the equipment in various laboratories on Knorr.

The labs include biological analyses, water, gas and hydrothermal plume chemistry, and geology and map making. The Deep Submergence Operations Group (DSOG) will begin setting up the remotely operated vehicle (ROV) Jason and the other mapping systems to be used during the expedition.

During the trip to Mauritius, we planned in detail our research, reviewed site charts, and adjusted to a new way of walking, sleeping and eating aboard the rolling ship. Anticipation is building for the hydrothermal vent research ahead and many of us are thinking:

"Deep below, on the bottom of the ocean, what will we find?"