Hot Topics: Finding Telltale Hydrothermal Plumes With MAPRs (Miniature Autonomous Plume Recorders)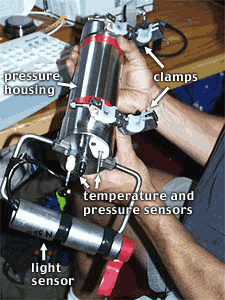 Rob Palomares, Scripps' technician, prepares a Miniature Autonomous Plume Recorder (MAPR) for deployment. The larger titanium cylinder he is holding is a pressure housing that contains electronics and batteries. The smaller metal cylinder near the bottom is the light sensor. The two narrow tips sticking out of the pressure housing are the temperature and pressure sensors. The white semi-circles indicate where the MAPR clamps on to the fiber-optic cable.

But ocean scientists cannot see into the deep ocean and it is very difficult to dive into it. So they need to be clever about how they detect submarine volcanic eruptions. We are using an ingenious new way to monitor volcanic activity on the global mid-ocean ridge: the Autonomous Hydrophone Array (AHA). Then, to home in on possible eruption sites along the East Pacific Rise, we will use five Miniature Autonomous Plume Recorders (MAPRs), which were loaned to us by Dr. Ed Baker of the NOAA Pacific Marine Environment Laboratory (PMEL) in Seattle, Washington, one of our Shorebased Collaborators. Dr. Baker and his colleagues at PMEL are the developers of the MAPR sensors.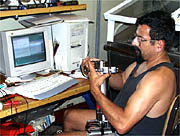 Rob Palomares checks out one of the MAPRs. Data from the MAPRs is downloaded into the computer in the background, which also programs the MAPRs for their subsequent deployments.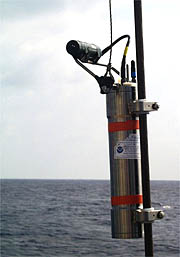 A MAPR is hung on the fiber-optic cable 200 meters above the DSL-120 sonar and lowered to the seafloor for the first time on the cruise.

The hydrothermal plumes offer a great way to find black smokers. If you detect a hydrothermal plume, you know that high-temperature hydrothermal activity is going on nearby. By homing into the place where the plume is most concentrated, you can usually home into the place where black smoker chimneys will be found.