Antarctic Water Wear: Cold-Water Diving and Drysuits
By Jeff Godfrey, Diving Safety Officer, University of Connecticut
and Kate Madin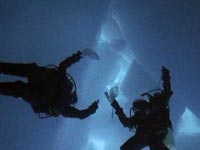 Divers in very cold water must wear heavy, bulky drysuits to withstand the temperature. Here, Kerri Scolardi and another diver collected krill that were grouped under sea ice in Antarctica. (Photo by Stian Alesandrini)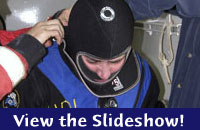 Watch a series of videos taken in the cold waters of Antarctica: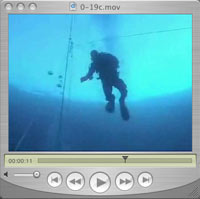 View Quicktime video »
View Windows Media Player »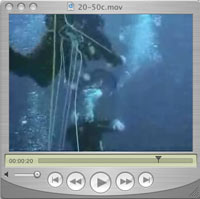 View Quicktime video »
View Windows Media Player »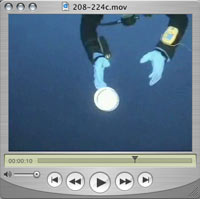 View Quicktime video »
View Windows Media Player »
If you have ever overstayed a dip in the ocean, or dawdled too long in the bathtub, you know that being in the water can be a chilling experience. Water conducts heat away from your body 25 times faster than air does, so you cool much more rapidly in water.
The human body's internal temperature has to stay within a narrow range around 37° C (98.6° F) to function normally. Reducing a person's core temperature by more then 1° C (1.8° F) can cause physical and mental impairment, increasing the chance of injury and death. A body temperature below 35° C (95° F) is known as "hypothermia," a life-threatening condition.
Scuba divers, who are often underwater for an hour or more, need ways to keep warm, even in tropical water. For most conditions, divers use wetsuits—body coverings that insulate the diver to reduce heat loss. But in really cold water, a wetsuit isn't enough, and a person can quickly become fatally cold.
To keep warm, divers surround themselves with something that insulates from the cold. While water conducts heat very well, air does not, which makes air a great insulator.
The first effective protection from cold water was the foam neoprene wetsuit, a body covering made from a flexible foam material containing small air bubbles. Wetsuits, as the name suggests, insulate a diver even when wet.
The wetsuit has limitations, though. It can't insulate well in very cold water, and as a diver goes deeper, water pressure increases, squeezing the wetsuit's bubbles smaller and reducing its insulating ability. So in deeper or colder water, divers need something better—suits that keep them dry.
The "drysuit" is a waterproof, watertight covering, worn over long underwear, with air inside the suit for insulation. The key to staying warm is wearing the right layers underneath. Modern drysuit underwear insulates well even when wet. Cold-water divers often wear two layers— a thin inner layer, and an outer layer, usually a heavy jumpsuit of insulating fabric.
Divers lose a lot of heat from their heads, so they wear hoods for insulation. In very cold water, divers often wear a special "ice hood" that covers more of their faces. Even then, the parts of the diver's face exposed to cold water—lips, cheeks, and nose—get numb. To solve this, some wear a full-face mask, completely covering the face.
Hands, too, get cold quickly and lose feeling and strength. Repeated exposure to cold can damage the nerves, so keeping hands warm is important. "Dry gloves" attach to the suit and allow warm air to pass from the suit to the hands. If your hands start getting cold you can raise them over your head and the air in your suit rises, refilling the gloves with warm air.
Putting on the gear for a cold-water dive is often harder work then the dive itself. Drysuits, dry gloves, full-face masks, and hoods are heavy and bulky, and the diver has to put it all on while above water. The insulating air in the drysuit also makes divers buoyant, so they float. To counteract this, they wear lead weights on a weight belt. In cold water, when divers wear thicker underwear and have more air in their suits, they often wear more than 30 pounds in extra weight. Add to this the weight of the suit, fins, scuba tank, regulator (the device that delivers air to the diver) plus the buoyancy compensator ("BC," an inflatable vest), cold-water gear can weigh more than 100 pounds (45 kilograms).
Once in the water, there can be more problems. In extremely cold water, the scuba regulator air valve can freeze when the moisture in the diver's breath touches the cold regulator. Regulators usually freeze in the "open" position, so the diver gets too much air— better then not getting any! Because of this problem, many coldwater divers use two independent scuba regulators for extra safety. The valve that adds air to the diver's suit and buoyancy compensator also can freeze open, which can cause an untrained diver to float uncontrollably to the surface.
Despite the potential problems with freezing equipment, bulky suits, and cold faces and hands, a well-trained and equipped scientific diver can safely dive and work in the coldest places on earth, such as Antarctica.