Daily Updates: May 2004

S
M
T
W
T
F
S
1
2
3
4
5
6
7
8
9
10
11
12
13
14
15
16
17
18
19
20
21
22
23
24
25
26
27
28
29
30
31
Daily Updates: June 2004
S
M
T
W
T
F
S
1
2
3
4
5
6
7
8
9
10
11
12
13
14
15
16
17
18
19
20
21
22
23
24
25
26
27
28
29
30
31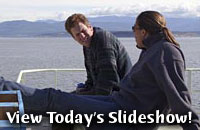 TODAY'S WEATHER
Overcast
60°F (15.6°C)
Latitude: 48° 23'N
Longitude: 124° 30'W
Wind Direction: Calm
Wind Speed: Calm
Sea State: 0
Swell(s) Height: 0 Foot
Sea Temperature: 55°F (12.8°C)
Barometric Pressure: 1014.0 MB
Visibility: 12 Nautical Miles

BREAKFAST
Scrambled eggs
Waffles
Sausage
Oatmeal
Home fries
English muffins
Cinnamon apple muffins

LUNCH
Beef stew
Ham and cheese sandwiches
Fish and chips
Pesto chicken ravioli
Rice and veggies
Salad bar
Ice cream bars

DINNER
Steamed fish with cilantro coconut sauce
Brown rice
Steamed vegetables
Potatoes
Fresh baked rolls
Ice cream and cookie bars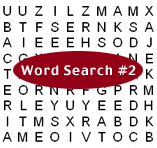 An Unexpected Return Home
June 8, 2004
By Amy Nevala
Those who go to sea know that it can happen while they are gone, but pray that it never will. Babies are born. Toddlers take first steps. Teenagers graduate high school.
And loved ones pass away.

On Sunday, Captain George Silva received a phone call with the news that a member of his family had died.

Priorities on board Atlantis shifted from doing science to making sure the captain will quickly and safely return home, more than 3,000 miles away on the East coast. When Co-Chief Scientist John Delaney ascended in Alvin Sunday afternoon from the Nootka transform fault

, he and Chief Scientist Deb Kelley decided that after the ship brings the captain to land, the expedition will end two days early.

"It's a tough call, to cut a cruise short," John said. "But Debbie and I felt it was the right call."

Just five hours after returning to the ship from Nootka on Sunday, the Alvin group went down for an unscheduled sunset dive to recover an ocean research instrument. Pat Hickey spent just 15 minutes on the seafloor loading the instrument in the sub's basket so that at midnight we could begin a 15-hour steam to Port Angeles in western Washington, where the captain will fly home.
The Transit Home
Scientists on Sunday night grieved for the captain, each in their own way. Some gathered in small groups to talk and reflect. Others, craving solitude, busied themselves in lab work they want to complete before the expedition ends. Many stayed up late typing long e-mail messages to their children, spouses, and parents. And others prayed.

This morning, as we entered the Strait of Juan de Fuca after an overnight transit, many onboard Atlantis pressed cell phones to their ears when we came within signal range of land. People stood on the decks for long moments, mesmerized by green trees on the Olympic Mountains. Seaweed cut from the shoreline floated past. Soil-scented breezes drifted out to the ship, a welcome mat from shore.

"Smells like home," said Sheryl Bolton, a science technician who lives outside Seattle.

Crewmembers suspended their usual joking during routine duties. George is their captain. He is also their friend.

"We hurt for him," Bosun Wayne Bailey said. "We are this tightly knit, isolated society of people, and I think it's safe to say that we feel it out here a little deeper."

On shore and on the ship, people reached out to help.

Once George departs for home, Chief Mate Mitzi Crane, a licensed sea captain, will guide Atlantis to the docks in Seattle. Filling her role as chief mate is George Wilson, a licensed chief mate from the Thomas G. Thompson, a research vessel at the University of Washington.

"Was it just two days ago that we were laughing and reading poetry?" Mitzi said. "Now there's this hush. A fog. And it has wrapped us up."