Daily Updates: May 2004

S
M
T
W
T
F
S
1
2
3
4
5
6
7
8
9
10
11
12
13
14
15
16
17
18
19
20
21
22
23
24
25
26
27
28
29
30
31
Daily Updates: June 2004
S
M
T
W
T
F
S
1
2
3
4
5
6
7
8
9
10
11
12
13
14
15
16
17
18
19
20
21
22
23
24
25
26
27
28
29
30
31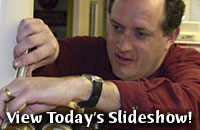 TODAY'S WEATHER
Rainy
56°F (13.3°C)
Latitude: 45° 18'N
Longitude: 127° 41'W
Wind Direction: S
Sea State: 4
Swell(s) Height: 4 Foot
Sea Temperature: 53°F (11.7°C)
Barometric Pressure: 1012.0 MB
Visibility: 5 Nautical Miles

BREAKFAST
Scrambled eggs
French toast
Oatmeal
Bacon
Sausage patties
Home fries

LUNCH
Turkey ham on wheat
Fish cakes
Bowtie pasta
Seafood bisque
Vegetables
Salad bar
Candy bars

DINNER
Grilled tenderloin steaks
Grilled chicken breasts
Broiled shrimp and mussels
Rosemary polenta with tomatoes and red onions
Corn
Pepper cheese bread
Chocolate walnut brownies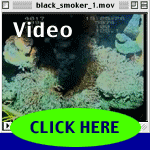 A Salute to Alvin, on Poetry Night
June 6, 2004
By Amy Nevala
On June 5, 1964, Alvin's namesake creator Al Vine, an engineer at Woods Hole Oceanographic Institution, became among the first passengers to descend to what was then a remarkable depth for this new, human occupied science research vehicle—about 12 feet (4 meters). In the four decades since, more than 12,000 people have climbed into the six-foot pressurized sphere to explore depths down to 14,764 feet (4,500 meters).
It was a fitting tribute Saturday—Alvin's birthday—that the two passengers and pilot diving on the sub included longtime veterans of deep-sea research, as well as a 26-year-old graduate student still toeing the waters of her scientific career. Wearing a huge grin, Alison LaBonte, a graduate student at the Scripps Institution of Oceanography, slid into Alvin with her research advisor Kevin Brown and Pilot Patrick Hickey for her first-ever dive.

Tonight, after exploring the Nookta transform fault

west of Vancouver Island in Canada, Alvin is parked in the hangar on the fantail of Atlantis. We marked the 40-year-old sub's birthday with a barbeque—in the galley (because of rain)—and by reading poems that children and adults throughout the United States had dedicated to Alvin. The poetry night tagged on to an 11-year tradition started by this expedition's Co-Chief Scientist John Delaney, called Bos'uns Poetry Night, in honor of the ship's bosun, Wayne Bailey.

Nearly all of the scientists on board and a majority of the ship's crew turned out to listen to poetry written by greats Robert Frost and Robert Service. People also read their own prose about the sea, about family they missed back home, about working in the engine room. Chief Mate Mitzi Crane penned a piece that she dedicated to the engineers, "the gang below who make sure we go whenever we're out to sea."

Toward the end of the night, Mitzi also read this limerick she dedicated to Alvin:

There once was a man named Al Vine
Who invented the toy of his time.
Although small and slow
It goes down below
With some sort of science in mind.

Its pilots are fun loving guys
Who take scientists down for a ride
They pillage and plunder
They stuff it down under
Then bring it back up topside.

Some say this life is serene
These folks who use this machine
Some think it too small
Inside of a ball
In Alvin, our submarine.