Mail Buoy
February 23, 2006
We are so excited to be able to tag along on your expedition! How does the extreme cold affect your equipment? We have seen pictures of boiling water freezing as it is tossed into the air and electrical cords frozen into bizarre shapes. How do you protect your equipment?
Thank you and "good hunting"!
Ms. Laura Crosby
NJ teacher
Dear Ms. Crosby,
It's summer down here, about the same as late August in the northern hemisphere so this is not the coldest time of the year here. Also, we are at about 63.5 degrees south latitude, and surrounded by ocean, so the sea actually keeps us warmer than the land. Where we are right now, the air is about 2 degrees C (35 degrees F), so we are not too cold. In the interior of Antarctica, in the winter, it is very cold, as the pictures you've seen suggest, but we are thankful we don't have to endure those conditions! The U. S. Antarctic Program issues special clothing to everyone who comes to do research in Antarctica, so we all have very warm things to wear. Much of our equipment is very strong, such as the nets we tow. Delicate equipment, such as robotic vehicles (ROVs) or cameras are kept inside until we put them in the water. The divers who spend time in freezing water wear "dry suits" designed to keep them warm, and they can stay in freezing water for about an hour. Sometimes the water vapor in the divers' own breath can freeze on the regulator, the device they breathe through, so they are careful to wait until they go underwater before they put their regulators in their mouths. Thank you for your good wishes, and keep checking in!
Larry Madin, chief scientist
Woods Hole Oceanographic Institution
---
Dear members of the Dive & Discover Expedition Project,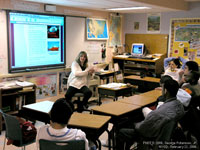 Earth Science teacher, Virginia Seberg, at the New York School for the Deaf (White Plains, NY) teaches students about the various animals that live together in Antarctica, using the SmartBoard and online materials provided on the Dive & Discover website. (Photos by George Potanovic, Jr., New York School for the Deaf)
I want you to know that our Earth Science classes at the New York School for the Deaf (White Plains, NY) were following your progress on the web site this morning in class. Virginia Seberg, our Earth Science teacher, is very enthusiastic about the project and is planning to have her classes study about Antarctica while checking your web site daily. She has also shared information about your web project with her colleagues at other schools. Today, her students studied some new vocabulary words and read the ship's daily update. Mrs. Seberg's teacher assistant, Kathy Telesmanich, prepared a powerpoint presentation for the students as an introduction to the lesson. In the photo below, she is reviewing the daily log with the students on the SmartBoard in the science lab. Our high school principal, Sandra Lunestad, has been very supportive of this use of technology and distance learning in the classroom.
We are looking forward to the coming weeks of exploration!
Best regards,
George Potanovic, Jr.
Director of Media Programs, Instructional Media Center
New York School for the Deaf
White Plains, NY 10603
---
Dear Crew:
What do you do when you are not on an expedition? Are there students aboard the ship? What are some of the hobbies and interests of the crew members? What will you do to solve the problem of not enough krill?
Mrs. Cindy Littman's Third Grade Reading Class
Cedarmere Elementary School
Reisterstown, Maryland
Dear Mrs. Littman's third grade reading class:
Thank you for your questions. We are really happy you're looking in on our expedition.
To answer you, when we are not on a research cruise, we have lives like most people. We go to work, shop, cook and clean and pay bills, and most importantly spend time with friends and family. Some of the team are graduate students, finishing their studies. Others of us teach classes at colleges and meet with students and other faculty. All of us will be spending a lot of time—maybe a year or more—analyzing the data and information we collect on this cruise.
We don't have younger students aboard, but we do have several students in graduate school.
The L. M. Gould's third mate, Lawrence Brissette, tells us that many of the crew enjoy reading or watching DVDs in their off hours aboard ship. The officers have eight-hour watches (work periods), and other crew have 12 hour-watches.
On this cruise, no one is working on the biology of krill. We think that there could be big changes in the ocean food web in this one part of the Southern Ocean, but we are only working around the Antarctic Peninsula, not the whole ocean. We are trying to find out as much as we can about salps and the way they live in their environment, but we can't predict what may happen to the whole system.
Thank you for writing,
Pat Kremer
biological oceanographer
University of Connecticut
Kate Madin
writer
Woods Hole Oceanographic Institution
---
What is the Arctic Circle? What do plankton eat?
Thank you
Joey Paduch, age 8
East Wareham, MA
p.s. who is cooking your food?
I asked marine biologist Isabelle Williams about what plankton eat, and her answer was: "There are many kinds of animal plankton in the sea, and they eat different things. Many of the animal plankton eat the small plant plankton, and other animal plankton eat anything smaller than they are, that they are able to catch. Salps, which are the animal plankton we are studying on this cruise, eat tiny single-celled things, like algae cells, or even bacteria. But some animal plankton are predators, and grab or sting things like fish larvae or other animal plankton. Basically, plankton are many different kinds of animals, from single cells to really large soft jellyfish, and they eat other things they find drifting in the water."
The Arctic and Antarctic circles are imaginary lines drawn on the globe at about 66 degrees north and south of the equator. They mark the zones, near the poles, called "the Arctic" and "the Antarctic." These are the only parts of the Earth that have 24 hours of darkness during some part of winter and 24 hours of sunlight during some part of summer. This is because of the tilt of the Earth on its axis. There's more information about this in our ""Antarctic Ecosystem, Deeper Discovery" section.
We have three very good cooks cooking for us on the ship, and you can see their pictures on our Scientist and Crew pages.
Thank you for writing in!
Isabelle Williams
marine biologist
ENSR Corporation
Kate Madin
writer
Woods Hole Oceanographic Institution