Interview with Dr. Chris German

by Ken Kostel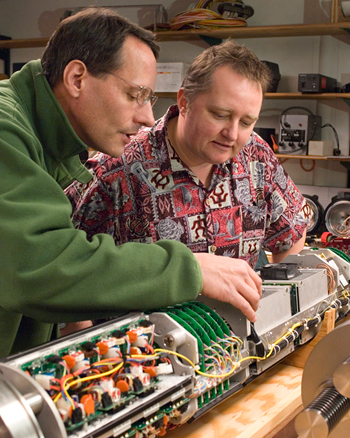 Andy Bowen and Chris German (right) examine the interior of a robotic vehicle in the National Deep Submergence Laboratory at WHOI, a state-of-the-art lab for development of advanced vehicles for exploring the deep ocean. Bowen and German are Director and chief scientist, respectively, of the National Deep Submergence Facility (NDSF), a national center that oversees operation of deep ocean vehicles for the U.S. oceanographic community. (Photo by Tom Kleindinst, Woods Hole Oceanographic Institution)
What do you study?
What I'm really interested in is sites of active fluid flow—places where weird versions of ordinary seawater come squirting out from the seabed, things like hydrothermal vents that come out at high temperature. But also more recently I've started paying attention to the kinds of fluids that come out in settings like here in the Gulf of Mexico, at the things we call cold seeps.
How many times have you been down in Alvin?
I've actually only been down twice. It's kind of one of my best-kept secrets. It's really exciting for me to get out here on this cruise, because I spent 10 years back in the UK after my postdoc where we didn't have any kind of submarine to work on. That's where I became an expert in developing ways to track down things for other people to dive to and look at. Five years later, this is my first trip out with Alvin where I actually get to go for a ride in the submarine.
Are you excited about that?
Yeah.
What does having Sentry along on this cruise help you do that you couldn't otherwise?
I think the really cool thing about having Sentry on the cruise is it's going to let us plan exactly where we go with Alvin that much more efficiently. On any given day, once Alvin goes down it's only got so much battery power onboard, so there's only so much work we can do in any one area, and there's a lot of different places still to be looked at in the Gulf of Mexico right now. One of the things that Sentry can do really well is use sound waves to make these really detailed contour maps of the seabed where not only can we see the shape of the seafloor, but we can see textures down there. So we're expecting that the mapping tool on Sentry is going to let us see things like the crinkliness of the seabed where the deepwater corals are. That'll actually help us go straight to where the best coral sites are that we want to study.
How did you get interested in this particular field of study?
My first interests were all very much focused on black smokers and hydrothermal vents. But what I've been doing in the last 10 years is working with a program called the Census of Marine Life, and in particular a program that was interested in the weird kinds of life living at the bottom of the ocean that get their energy from chemical reactions instead of from sunlight. And a lot of those are the things you find on hydrothermal vents. But as time has gone on we've found there's more than one place where you can get these kinds of weird animals that people didn't previously know about. I guess because they're at the bottom of a dark ocean out in the remote areas where people hadn't studied much. Now we've found that very similar kinds of animals can live at these cold-seep sites like we have in the Gulf of Mexico where we're working on this cruise. But you can also get the same kinds of animals living wherever anything big and full of organic matter falls to the seabed. Whale carcasses actually have some animals in common with hydrothermal vents, and they have some animals in common with the ones you find at cold seeps.
How often are you surprised by what you find down there?
Most days, frankly. Which is what makes it such an extraordinary thing, to actually be a deep-sea oceanographer, because you don't know what you're going to find. And if we did, I guess we'd be out of a job by now. But one of the things that has impressed me, and what keeps me coming back, is that there are times when I think I understand a particular system so well that I can't imagine that after this one cruise I go out to sea and go, "Well, this'll be it. This is really going to settle everything." And then you go out and you actually find that the ideas you had were completely wrong. Being a scientist is learning how to be OK about being wrong, because if all we ever did was go out and find out that our predictions were correct, we actually wouldn't be learning anything that new about the planet.