Interview with Sacha Wichers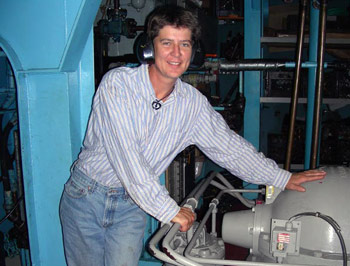 How did you develop your interest in the ocean and boats?
My first real exposure to boats was when I started living on a houseboat in Amsterdam at the age of eighteen. Since then I have been fascinated by boats—why they float, how they move, etc. When I started traveling, I always found myself on a dock looking for jobs on board any sort of boat that would hire me.

I left Holland when I was 21 years old, and lived on Martha's Vineyard in Massachusetts, USA, where I worked for a wooden boat-building company called Gannon and Benjamin. I learned a lot about wooden boats from them, including how to build and maintain them. This job made clear for me my love of boats, and I knew I wanted to spend my life 'messing about' with boats. When I was 26 years old, I moved to New Orleans where I worked in a shipyard, and there I got my first exposure to commercial big ships and associated industrial equipment.

What made you decide to go to university?
I was married at the time, and my husband played a big role in pushing me towards that decision. Although I liked my job, there were no prospects for advancement and the wages were low. It was clear to me that I wasn't going to get anywhere if I stayed in that job. So I applied to the University of New Orleans to study Naval Architecture and Marine Engineering and got in. I was 32 years old when I started college, and I am very happy that it took me so long to go back to college because when I did, I knew what I wanted out of college; I was ready to study boats on a theoretical level.

Then you went on to graduate school?
I did very well as an undergraduate so I thought I should go on. I applied and got accepted at MIT, and it was my intention to work with a professor there whose expertise was in sailing yachts. However, when I arrived, I found out he was no longer taking any students. That caused me to rethink my plans, and I enrolled in the MIT-Woods Hole Oceanographic Institution Joint Program in Applied Ocean Physics and Engineering, and I did my M.S. thesis with Hanu Singh and Rob Reves-Sohn on the dynamics of hydrothermal plumes—quite different from what I intended to study. But I am happy I got the chance to take classes at MIT; the quality of education there is incredibly high.

But now you are a ship's engineer – how did that happen?
While a graduate student, I had participated in two cruises, one of which was on R/V Knorr. I loved it, and realized I wanted to work on the ship. Since I didn't have a license, I couldn't be part of the crew at that time, so I talked with the person in charge of the shipboard science technicians.

I graduated in 2005 and then spent four months traveling in Africa. WHOI then contacted me and offered me a position sailing as a shipboard science technician. While there, the First Engineer at the time told me that, with my undergraduate degree in engineering, I could get an Engineer's license if I put in six months of time at sea. I did this, got my license, and became the Third Engineer on Knorr in May 2007.

What do you do on the ship?
There are usually three engineers who stand watch, as well as a Chief Engineer. I stand watch with one other person – the Oiler – from 1000-1200 hours and from 1800-2400 hours (this is an unusual watch system). During that time, our job is to monitor all ship's systems, prevent major catastrophes, and deal with problems as they arise. As Third Engineer, I am also in charge of all plumbing and associated systems, all the air compressors, the zincs (devices on instruments to prevent corrosion by seawater), and fabrication.

So you build things yourself?
Yes, I know how to weld, use a lathe and a milling machine. Although my wooden boat experience is good for carpentry, I had to learn to work with metal while on the job. The other engineers have been very supportive in teaching me these skills. And that is an important point: If you do not have supportive supervisors, you will never learn anything or get anywhere.

What do you like and dislike about your job?
I love working with my hands. I am not happy sitting at a desk, and I learned that science was not for me.

I enjoy my job and being on the Knorr. We work four months on the ship and then have two months off, so I work only eight months a year. Although being away for four months at a time is hard on one's social life, the two months off is good. The salary is good and allows me to save; although money is not everything, it certainly gives you the freedom to make choices.

In addition, the prospects for advancement are very good. There is one more exam I need to take, plus a year's worth of sea time each as Second and then First Engineer, before I can become a Chief Engineer. In fact, I will sail as Second Engineer on the next cruise, so I am on my way up the engineering ladder.

The downside is that you feel a bit disconnected from the real world. Also, starting and maintaining a family can be difficult for a ship's engineer.

What advice would you give to students interested in being a ship's engineer?
As a kid, I was told that I would never understand physics so I shouldn't bother to study it. Now I have degrees in engineering from the University of New Orleans and MIT. My advice to students would be to dream big, and don't listen when someone tells you you can't do something. Listen to your heart, and do what you want to do. To do what I do, you just have to love boats and want to maintain them.

And the future?
I don't make a lot of plans, because life tends to get in the way. I know I would like to keep saving money and invest in either a marina or beach hotel/bar—somewhere warm—that would generate enough money to sustain itself. A small marina on the Intercoastal Waterway in Florida would be ideal!