Interview with Dan Conrad
by Susan Humphris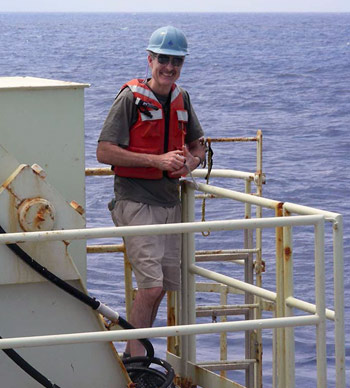 You are on this cruise as an educator helping with the Dive and Discover site. What and where do you teach?
I have been teaching for over 20 years at Baltimore Polytechnic Institute, which is a magnet high school. I teach physics to 11th grade students, and I am also teaching electricity to 12th graders. Up until this year, I was also a teacher for the Ingenuity Project, a program for high aptitude students that emphasizes science and mathematics. Next semester, I will be teaching a class I developed in robotics.
Tell me a little about your background.
My father was a professional portrait artist. He built an art studio on a piece of land in Baltimore County with the idea that he would next build a house. Well, the house never got built, so I grew up in an artist's studio.
My mother was a school teacher who taught French, so I got a sense of what teaching involved. I could see the possibilities that teaching offered.
So how did you become a physics teacher?
I liked physics in high school because I found it difficult and challenging, but enjoyable.
I then went on to Amherst College where I put myself on track to be a physics major. But I also liked art, so I took courses in it. I ended up changing my mind, and graduated with a B.A. in Fine Arts.
For about ten years, I made an effort to pursue art projects. When I got married and started a family, I needed a job with a steady income. Since I enjoyed physics and had some credits for physics courses, I decided to get the credentials to be a science teacher. That involved obtaining additional credits in physics and also taking courses for certification, which I did at Towson State University in Baltimore County.
I first taught chemistry for one year at Loyola-Blakefield High School and then moved into the city of Baltimore where I taught for another year at Southwestern High School. I then transferred to Baltimore Polytechnic Institute where I have been ever since.
What are some of the rewards and challenges of teaching?
I very much enjoy developing positive relationships with students, and seeing them come to an understanding of the material I am teaching. I take pleasure in watching them mature, and feeling that I have played some role in that process. I like the material I teach, such as Newtonian physics, and I have learned a lot from having to teach it. I also enjoy structuring the material to optimize its educational effectiveness.
I have to say that I approached teaching at the outset with a high degree of idealism. It took me several years to develop and stabilize my role in the classroom as a teacher. There are a couple of aspects of teaching that I don't particularly like. I don't enjoy the disciplinary aspect of teaching, although I have become accustomed to it. And, like any other teacher, grading papers is unbelievably tedious. However, if you are going to teach well, you bombard yourself with work, because providing feedback to students is absolutely critical. That means lots of grading.
What has happened to your art interests?
During the time I had small children and I was in my early years of learning how to be an effective teacher, I abandoned art. That was for about 10 years.
The way I got back into it was interesting! I had some Sumii ink (Japanese black ink), a small bottle of water, a brush and some paper that I kept with me. When I got frustrated with grading, I would get these art supplies out and start doodling. Back then, it was a matter of stealing moments, but in time, I started setting aside time for my art.
And what type of art are you interested in now?
My undergraduate thesis in college involved working with changing color using light illumination. I built equipment to do this, and I did some performances with musicians using light changing effects. I also did watercolor painting.
My interest in using light for art is now something that is continuing to take shape – I only wish it had been earlier.
What do you see yourself doing in the future?
Before I started teaching, I spent about a year doing watercolors of people's houses. I would take photographs of the houses and then render them. This became tedious, and I learned that even art can no longer be fun for me if I am dependent on it for a living.
I would certainly like to continue with the direction my art is going now – I am still learning, and I believe I have something to contribute. I would perhaps like to restructure my interests so that I could continue to teach but keep some time for art.
What advice would you give a student interested in a career in science teaching?
I have noticed that science teachers who come from occupations that involved science have a greater depth of experience that is valuable in teaching. I missed getting experience in the field. So my advice is to not jump into teaching right away, but to get some job experience first. Also, it is important to come into the job with your eyes wide open. It is not necessarily easy, so you need to be aware of the commitment.

And now to this cruise. How did you get involved?
In 1996, I was asked to lead a summer engineering program at Baltimore Polytechnic Institute that was sponsored by Roger Westgate, Dean of the Engineering Department at Johns Hopkins University. He envisioned a program for under-privileged high school students that would help them find problems in engineering and science solvable and interesting. After I tried several different models for the program over three years, I decided on a model involving robotics.
The Dean then put me in touch with Louis Whitcomb in 1999 so I had an expert I could turn to for technical help. He helped me get set up with equipment and also take a summer course to learn about robotics. I then administered the summer program with 1-2 Johns Hopkins University graduate students for several years. In fact, the new robotics course that I will offer next semester developed from that summer program.
And then, four years ago, when the proposal for this cruise was being prepared, Louis recommended me to help with the education and outreach program. I visited Woods Hole twice, which was very helpful, and two years ago, worked on a new educational module on underwater vehicles for the Dive and Discover website. I feel I am invested in this project, and I am thinking about what future role I might play in the WHOI/high school connection.
This is the first time you have been to sea. Any thoughts after about two weeks?
What I have been impressed with is that a couple of the engineers out here have expressed the view that engineering provides them with the skills that open lots of opportunities. The range of topics they cover in their work on AUVs opens up lots of choices for them and allows them to choose what they want to do in the world. I am with these young people whose commitment to higher education has given them the freedom to do what they want to do.