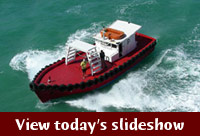 Today's Weather
Sunny
Latitude: 5°40' S
Longitude: 34°5' W
Ship speed: 11.5 knots
Wind speed: 18 knots
Wind direction: SE
Air temperature: 80°F (26.7°C)
Sea surface temp: 81.7°F (27.6°C)
Wave height: 5 feet

On Our Way, Minus One
December 31, 2007 (posted January 1, 2008)
by Susan Humphris
, edited by Kristen Kusek
Just after breakfast this morning, the crew hauled in the gangway—the walkway that stretches from ship to shore—and the docking lines, and the research vessel Knorr made its way out of the Potengi River and into the blue slate of the Atlantic Ocean.
Most of the 17-member science party arrived a couple of days ago in Natal, which sits on the eastern tip of Brazil—many with stories of delayed flights and last-minute changes in travel plans. But, they made it. Particularly nerve-wracking were the itineraries of three people due to arrive yesterday, the day before our departure—and as bad travel luck would have it, only two made it.
Kristen Kusek, our Dive and Discover science writer, was grounded in Philadelphia when her plane had engine trouble. The captain detected the engine trouble on the runway, thankfully before taking off! The bad news is that despite exhaustive efforts to re-route, the agents were unable to find a flight that would get Kristen to Natal in time for the ship's departure on the morning of New Year's Eve. We will miss her writing for Dive and Discover at sea, but she will be helping us from shore.
It turns out that our autonomous underwater vehicles (AUVs), Puma and Jaguar, had a rough journey, too! Shipped in late September, they were routed mistakenly to the state of Rio Grande do Sul, the southernmost state of Brazil that borders Argentina and Uruguay, rather than to the state of Rio Grande do Norte (in the north). They had to be transported by trucks over land for thousands of miles to Natal.
When they arrived, engineers discovered that the jostling of their long journey had caused some damage. The rough-housing roster included a broken propeller strut and batteries that had spun around several times in their cases—creating a hairball of wires. Luckily, engineers always come to sea prepared for problems, with lots of spare parts in hand and a healthy dose of patience, too. The vehicles are now back together and ready for further preparations for their upcoming missions.
Hair-pulling travel stories and bumps and bruises aside, we are happy to be on our way in the tropical sunshine. We will transit for five or six days to our first site on the Mid-Atlantic Ridge between 2° and 8°S—a distance that spans about 1,300 nautical miles. Still, it is just a small segment of the Mid-Ocean Ridge, the huge underwater mountain range that stretches for 40,000 miles, all around the globe, through the middle of the world's oceans.
Our goal will be to test cutting-edge navigation and communication technologies that will enable Puma and Jaguar to "talk" to each other, and to scientists aboard the Knorr, in real time—as they test new strategies using the vehicles to locate active hydrothermal vents on the volcanic ridge.
[ Next day ]