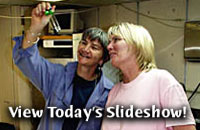 TODAY'S WEATHER
Cloudy
60°F (15.6°C)
Latitude: 27deg 0' N
Longitude: 111deg 24' W
Wind Direction: W
Wind Speed: 7 Knots
Sea State: 1
Sea Temperature: 62°F (16.7°C)
Barometric Pressure: 1016.6 MB
Visibility: 20 Nautical Miles

COMMENTS
- SAW A LARGE WHALE FEEDING AROUND SHIP YESTERDAY MORNING FOR 2 HOURS
- A POD OF SPERM WHALES CROSSED BOW AROUND SUPPER
TIME LAST EVENING
WHAT'S TO EAT TODAY?
BREAKFAST
Scrambled Eggs and Sausage
Waffles
Bacon, Swiss Cheese Fritatta
Irish Oatmeal
Fruit

LUNCH
Oyster Stew
Roast Beef and Swiss Sandwiches on Whole Wheat
Shrimp and Veggie Stir Fry
Broccoli and Cheddar Quiche
Macaroni and Cheese
Frozen Milky-Way and Snickers Bars

DINNER
Filet Mignon with Grilled Portabella Mushrooms and Onions
Mahi-Mahi with Raspberry Sweet & Sour Sauce
Baked Potatoes
Zucchini Saute with Garlic and Olive Oil
Roasted Rutabagas
Peach Crisp ala Mode (Vanilla Ice Cream)

Daily Update: Dive 3519
January 16, 2000
By Dr. Dan Fornari and Dr. Susan Humphris
Sunday is usually a day when people relax and spend time with family or friends. Not out here. At sea, Sunday is like any other day. Alvin makes another dive, while everybody else works away. But it was a day filled with success stories.

The microbiological work is producing results! Scientists learn about the microbes that live in and around deep-sea hydrothermal vents by growing (culturing) them in the laboratory. To do so, they must duplicate the temperature and chemical conditions of the microbes natural environment. The scientists combine various chemicals that the microorganisms need to grow and survive into a mixture (medium). They then pour these mediums into specialized containers that have been sterilized to keep out unwanted organisms. Finally, they place the sulfide samples that they had collected on Dives 3517 and 3518 into these mediums.
There are now microorganisms growing in some of the test tubes! It turns out that each of the organisms they are culturing requires carbon dioxide to grow. However, the other chemicals that they require differ from organism to organism. Some require hydrogen and iron. Others need sulfur and hydrogen. Still others use hydrogen and oxygen.

The microbiologists are especially excited because they think that some of the microorganisms they are culturing may be new to science! They won't know for sure, however, until they have a chance to examine the microbes' DNA back on shore and compare these "fingerprints" to those of other microbes.

Sunday was not all work, however. That afternoon Pat Hickey spotted a school of young yellow-fin tuna swimming around the stern. Several people tried to catch them, but only Pat succeeded. The tuna he caught was only 18 inches long, so he let it go.

The excitement continued that evening when the submarine returned. The scientists had brought back the first clams of the cruise! The clams' insides are red because their tissue contains blood. These clams are of particular interest because they live buried beneath the sediment. Here at Guaymas, the thick sediment layer covering the seafloor contains hydrocarbons. It's as if the clams are living inside an oil barrel! Yet the clams appear to be healthy. Tim Shank, one of the scientists on board, is interested in learning how the clams have adapted to living in this toxic environment. He will be analyzing their DNA for clues.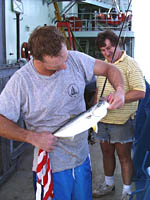 Carl Wood prepares to release the small yellowfin tuna that Pat Hickey caught.

1.)Alvin takes a core sample

2.)Alvin takes a gas sample at a hydrothermal vent
The other success story was the sediment coring! Recall that during earlier dives, the scientists were unable to bring up cores that had all of the sediment layers intact. One problem was that when the cores reached the surface, hydrocarbon gas bubbled out, mixing up the sediment layers. This time, George Luther and his group decided to use a smaller diameter corer. During the Alvin dive, observers Tim Rozan and Melissa Kendall collected cores of dark brown mud instead of the hydrocarbon-rich black mud. They are now happily measuring the iron and hydrogen sulfide concentrations in the cores. They will collect more cores tomorrow on Dive 3520.
Dive Summary
On Bottom: 0908 hrs
Off Bottom: 1542 hrs
Maximum Depth: 2011 m

Dive 3519, piloted by BLee Williams, took Tim Rozan and Melissa Kendall on their first Alvin dive of the cruise. This time they took a scoop net to try to dig clams out of the mud. They also took some special sampling devices called gas-tight bottles. These bottles are designed to collect hydrothermal fluids without losing the gases that are dissolved in the fluid. They visited three sites and collected sulfide samples, clams, and sediment cores. They also measured water temperatures and collected "Sipper" samples. They collected four gas tight samples from two different vents. Two of the samples contained hot fluid that had pooled underneath a ledge or flange. The other two samples contained fluid that was venting from a chimney.