Glossary


Interviews: Steward Carl Wood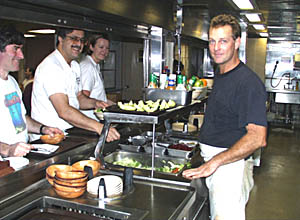 Carl checking the salad bar during lunch as Dorothee, Don and George serve their meals.

Question:
How did you first get interested in cooking? Did you know you wanted to be a cook when you were little?

Carl:
My older brother and I spent many summers together at our grandparents' farm, so I have always been in touch with gardening and livestock. Ever since I was 14, I have worked in kitchens. So I guess I developed an early interest in food and cooking, but I never really planned on being a cook until I was in college.

Question:
Did you go to college to learn about cooking? How did you get to be a cook on a ship?

Carl:
I went to college to study other things, but after three years, I realized that being a cook was what I really wanted to do. So I took courses and attended the Culinary Institute of America in Hyde Park, N.Y. That gave me the basic training I needed. Then I started working in restaurants. Back in the mid-1980s, I got a job cooking on a scuba diving charter boat. That is when I realized that I loved the ocean and water sports and wanted to combine my cooking talents with what I like to do to relax.


Carl climbs the steps on to the top of Alvin on a morning when he is a swimmer for the Alvin group. Growing up in Southern California, Carl enjoys water sports, and is happy that he gets the opportunity to help out by jumping into the ocean once in a while!
Question:
When did you start to work for Woods Hole Oceanographic Institution? Have you always worked on the Alvin support ship?

Carl:
I started working for WHOI in 1987 as an assistant cook on the Atlantis-II, the previous support ship for Alvin. Over the past 13 years, I've worked on all the WHOI ships, but being steward on Atlantis is my permanent position. I really enjoy being involved with Alvin because I am certified to be a swimmer to help with Alvin, so I get to help with launching and recovering the submarine. Swimming out in the deep ocean is a thrill.

Question:
What is the crew's favorite meal on board? What is your favorite type of cooking or meal? And we've heard that you cook special treats when the ship crosses the Equator. What does that involve?

Carl:
Everyone loves Pizza Night. Making several different kinds of pizza from scratch—dough, sauce, toppings, the works—and seeing it disappear by the end of mealtime is very satisfying.

My favorite meal to cook is fresh tuna, cooked to perfection with my spicy pineapple salsa on top. I also love to bake and provide goodies for people to eat either at mid-morning coffee hour or for an afternoon snack. I try to make people feel at home out here, and good food is one way people feel comfortable.

Equator crossings at sea are a special event for mariners. People who have not been across 0° Latitude on a ship are inducted in a daylong program that involves some time-honored rituals. One of these consists of making them crawl through what mariners imagine is in a whale's intestines. I make a special concoction that includes anchovy paste, chocolate sauce, Dijon mustard, raspberry jam, old spaghetti, and Jell-O, with a few eggshells to make it crunchy.

Question:
So how much food does it take to feed all 50 people on RV Atlantis during a cruise? Where do you store it and about how much does it cost?

Carl:
Every time we get to port we take on meats, dairy, fresh produce, dry goods, linens, and cleaning and other supplies. Most cruises last about a month, so we take on between 6-12 tons of supplies, sometimes more if it is a long cruise. RV Atlantis has a lot of storage space. Big walk-in freezers for meat and frozen goods, large walk-in refrigerators for perishable goods, and big storerooms for dry goods and supplies. Everyone helps out when it comes time to load the ship with supplies. We form a long chain of people: crew and scientists, if they are around and not busy. Teamwork gets it done well and efficiently. I love being a part of this team. The people on board are my family. Even some of the scientists who have been out here many times are like old friends. As for how much it costs, probably a rough number is about ten dollars per day for every person on board.

Question:
What are your hobbies both on shore and at sea?

Carl:
I look forward to my swims to help in the Alvin operations. Other than that, I like to exercise and read. Being the steward means long hours, so I try to get my rest. After working all day, there is not too much time left. On shore, I love to be out in nature. I'm finishing the construction of my new house on Lake Martinez in Arizona. It's a great spot, and I'm really looking forward to finishing it. I also have two kayaks and spend lots of time paddling the Colorado River.

Question:
Do you think you1d like to do something different in a few years?

Carl:
I really enjoy my work on RV Atlantis, and the people here are like a second family for me. I try to keep in shape, and I see no reason why I can't keep doing this for a long time. I do think about teaching cooking and maybe some day I might try doing that.