Interviews: Marine Geologist Rob Otto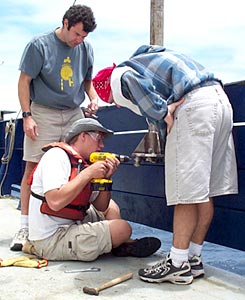 Rob, with Josh Curtice (left) and Steve Volpe, works on the wax corer.

Question:
Why is this cruise important to you?

Rob the 'Thinker' waiting for a rock dredge to be recovered.
Rob:
I grew up in Connecticut, five to ten minutes from Long Island Sound. Exploring the ocean has always been a theme for me and I stuck to it. I had some oceanography classes in high school and one of my favorite activities was walking along the beach to see what we could find. Oceanography has different aspects to it: geology, biology and chemistry. At Colgate I got into geology as a way to study oceanography and it's been great.

It's good to be on the ocean and see how scientists collect lava from the seafloor. As an undergraduate I did lab work on the rocks that a German ship had collected near the Galápagos. Another student and I traveled to Germany to collect the rocks my advisor Karen Harpp had identified on the cruise as being the most representative pieces. When I saw the rocks they were sealed up in plastic bags and I didn't have a good picture of what it took to collect them. We crushed the rocks and identified the best pieces under a microscope and then brought the rocks back to Colgate University in Hamilton, N.Y., where we analyzed the samples. So I'm doing this whole experience backward with the fieldwork last. This cruise brings me full circle in understanding the analysis of Galápagos submarine lava flows.


Question:
What have you learned about fieldwork on this expedition?

Rob:
I've found working the 12-4 shift is one of the best. The scientists and crew are a tight group. It's nice to work with Sean and Butch because even at 3:30 in the morning they are very professional and great fun. On this shift, I've learned that there's a lot to picking out sample locations and mapping volcanism in the Galápagos. We use the multibeam and the MR1 and the towed camera to find out more about the volcanic seafloor features and then dredge in places where we think we have a good chance of getting rocks. My interest is in oceanography so it's nice to be on the water on board a ship doing fieldwork rather than in the lab where you're not always seeing the bigger picture.
Helping to empty a full rock dredge.
Question:
What do you see is the larger picture?

Rob:
I took time before the cruise to tour the islands and see the types of animals that live here. It gave me a sense of what Darwin saw when he came to the Galápagos. You look at the islands and you see dark, black rock and think it might not be much to live on. But in fact, lots of animals are here and have been sheltered from the mainland so they now have a completely different diversity than what you would find in Ecuador. I also went on a SCUBA diving excursion off the coast of Floreana and saw a submerged volcano. Over time the currents have eroded the cone turning it into a jagged ring of spires called Devil's Crown. It was a strange experience. The other volcanoes I've seen I had to climb up - Mt. St. Helens in Washington and El Teide in the Canary Islands. Devil's Crown is a remnant volcano and it was a weird way to explore geology by looking at it from the inside out and swimming around the outcrop in a SCUBA suit.

Question:
What are you looking to do when you get back to Connecticut?

Rob:
For now I'm going to hold off on graduate school and see if I can do something for a couple of years in oceanography. I'm looking for jobs on the East Coast studying either coastal geology or deep-sea exploration. My ideal job would mix geology, biology and photography - basically marine exploration. I enjoy working in the field. My professor tells me I'm observant and pick out things that don't seem to fit.

Question:
What was it like growing up so close to the water?

Rob:
The first time I started swimming I was about four years old and I caught pneumonia so I was scared of the water for about a year afterwards. Then I tried swimming again and loved it. I haven't gotten out of the water since. Every summer day I would have an adventure on the beach looking for things. I have two older brothers, Eric and Halsey, and we all have our own different interests. Eric is in politics in Washington, D.C., and Halsey is an accountant. As a kid, I was the weird one on the beach flipping over rocks and looking for animals.


| | |
| --- | --- |
| Once a Pollywog, Bam Bam (Rob) measures the length of the ship with a squid, with help from Big Red Petro (Denny Geist) and Party Boy (Jeremy Haney). | |
Question:
Now that you're a shellback what did you think of the ceremony?

Rob:
It was fun. My dad was in the Navy and he said before I left to get a lot of sleep because as a Pollywog, I was 'toast.' I had heard about crossing ceremonies from other people at Colgate, but I think a lot of it is built up beforehand so you're expecting a big deal. I did have a little hesitation about going through it. Now that I'm shellback, I think the ceremony is a good way to get people together and a great way to end the trip.