Glossary
Interviews: Marine geologist Jenny Engels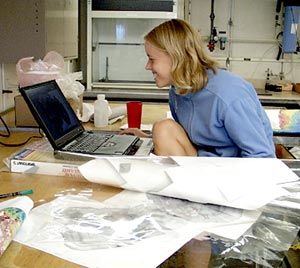 Jenny analyzes MR1 sidescan sonar data to make maps of the volcanic seafloor around Isabela and Fernandina Islands in the Galápagos.

Question:
What are you hoping to study as your doctoral thesis?

Jenny:
I'm working on interpreting the data from a 1993 to 1995 expedition in the Arctic. My advisor, Margo Edwards at the University of Hawaii, worked with a team mapping the Arctic basin using sidescan sonar and bathymetry, a project similar to what we're doing here in the Galápagos. Since the Arctic is almost always covered with ice, instead of using a ship, the instruments were mounted on the bottom of a nuclear submarine. They discovered huge ice scours in the Arctic basin at depths below 900 meters. This was really exciting because icebergs aren't deep enough there to reach those depths. The finding indicates extremely thick ice flows, at least 1 kilometer thick, once covered the Arctic. But oceanography and glacial studies have said there's no way that could have happened. Since we know our data are good, we have a great opportunity to find out about the climate during the past 150,000 to 200,000 years when these ice marks may have been created.


Jenny and Paul Johnson attach the wire to the MR1 sonar fish shortly before a launch.
Question:
How did you become involved in geology?

Jenny:
I grew up in the small town of Aurora, OR. Whenever my parents took my sister and I on trips to National Parks, I always wanted to know about the origin of the scenery and topography that I was looking at. When I went to Oberlin College I studied romance languages and to meet a science requirement took an oceanography class taught by a geologist. It was the best class I ever had. I took another geology class and found it super exciting. I transferred to Oregon State University where I majored in international studies and geology. Now wherever I go, I always have something geologic to look at.

Question:
Why romance languages?

Jenny:
When I was a freshman in high school I took three months in the summer to live in France. I returned my senior year as an exchange student and had such a wonderful experience I stayed for another year and a half, working as an au pair, or nanny. In high school I also studied Spanish. Then during my freshman year in college I studied Italian. Now I'm working on learning Japanese.


Dan Fornari discussing one of the research papers that Jenny is writing which is based on her East Pacific Rise thesis research.
Question:
Who have been some of the role models in your life?

Jenny:
My undergraduate advisor, Dawn Wright at Oregon State University, my current advisor, Margo Edwards at the University of Hawaii, and my mom.

I'm very lucky to have two female advisors who are awesome role models and have been inspirational in terms of both career life and family life and balancing family with academic needs. They are good at what they do; they love geology and love teaching students. They're confident in their own skills. Both came into geology when there were few women geologists. They had perhaps one generation of women behind them in the field. The generation of women going into the field who are my age owe women like Dawn and Margo so much, because we are given every opportunity they had to fight for.

So many women my age have mothers who are personally responsible for the fact that we have all these tremendous opportunities. My mom is an accountant and when she went to school in the late 1960s, the professors discouraged her from taking math classes. When she graduated and started working, she was the only woman in her accounting firm. She had to put up with behavior that would be considered totally unacceptable today. She, Dawn and Margo have always led me to believe I could do anything and that all doors are open.

Question:
What is your relationship like with your sister?

Jenny:
My younger sister, Mary, is 23. She graduated with her bachelor's degree in biology and will start her master's this fall at the University of Hawaii studying geology. My parents are bewildered that both their daughters are geologists. It's wonderful having her in Hawaii, because we haven't hung out with each other since high school and it's fun to get to know her as an adult. We're on the same outrigger and canoe paddling team. She and I have always raced together in the same boat - swapping between two seats, one in front of the other. We encourage each other during the race, yelling 'Go! Go! Go!' and have a lot of fun. The water in Hawaii is beautiful and it's neat to have that time to spend together.


| | |
| --- | --- |
| During our short visit to Puerto Ayora on Santa Cruz Island, Jenny met one of the giant Galápagos tortoises that live at the Darwin Research Station. | |
Question:
What makes this cruise important to you?

Jenny:
This is my third cruise. It's thrilling to be in the Galápagos. In the scientific community this is a hugely important place because of Darwin's work here. It also has an exciting geologic history that makes it one of the top three places all geologists want visit - Galápagos, Iceland and Hawaii. With so much of the Galápagos submarine geology unstudied, it's great to have the opportunity to be one of the first people to see what's here. Working with the HMRG we can watch the geology unfold as it spools out across the computer screen - never before seen features right in front of you.