Glossary
Interviews: Research Associate Josh Curtice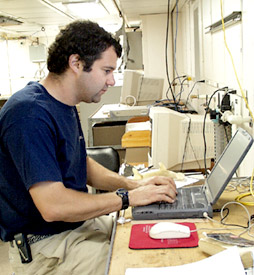 Josh spends much of his time carefully recording data about the rock samples and enter it into a compute spreadsheet. This will help him, Mark, Denny and Dan keep track of all the sample information.

Question:
How did you become involved with the job you have now?


With Mark Kurz, Josh helps prepare the wax corer for deployment.
Josh:
Woods Hole Oceanographic Institution needed someone with a technical background who would be interested in going to sea a lot to help process water samples and run equipment. They didn't want someone with a Ph.D. because they didn't need a scientist. I had just graduated with a bachelor's degree in mechanical engineering so applied and started working with Bill Jenkins. I've been working there nine years now, the last four have been with Mark Kurz. The job has taken me to sea on the research vessels: Melville, Oceanus, Knorr, Revelle, the NOAA Discover and the Cape Henlopen research vessels. I've sailed to Australia, Sri Lanka, Tahiti, Easter Island, Chile, Azores, Madera, Trinidad, Tobago, Singapore and now the Galápagos and Costa Rica. With Mark, I'm out at sea about once a year.



Josh and Kate Buckman bag up the larger rocks from dredge 39 and transport them to the van for storage.
Question:
What do you enjoy about going to sea?

Josh:
I'm really happy when I go out to sea because I can put my wallet away when I get on the ship and I'm two minutes away from work and food. I usually get into an exercise routine and read more when I'm out. Except for this cruise where it would have been nice to have more information or be at home right now, usually when I leave I enjoy getting away from the daily worries. And when I return everything seems fresh again at home. We are usually in a place where there are nice sunsets and sunrises to see, depending on your shift. The ports of call that we visit make it well worth going through 30 days at sea. For me, a 30-day cruise once a year is a good break away from the normal routine, but I'm a landlubber, I think six months a year would be too much.

Question:
What have you enjoyed about this cruise?

Josh:
The people on this cruise are extraordinary. You know you're getting along when you can still joke and laugh with each other after 30 days. I think a big factor is how well the co-chief scientists interact with the scientists and the ship's crew. Even when things go wrong, like losing the camera, it might be stressful but we haven't had any personality conflicts and we've all stayed focused and positive.

Question:
What is your day to day work like at WHOI?

Josh:
We'll take the rock and glass samples back to the lab where we will crush the rock and pull out the olivine minerals. Then we'll run it through the mass spectrometer to measure the helium ratios. Since we've chipped the glass off of the rock samples, it will skip the crusher and go straight into the mass spectrometer. Sometimes the equipment can be very fickle so I'm often going between labs keeping equipment running. It's nice because I'm not stuck behind a computer all day. I also don't have to wear a three-piece suit for what I do. I'll go to work in a T-shirt, shorts and running shoes and be just fine.


| | |
| --- | --- |
| Waiting for the rock dredge to be deployed. Volcán Ecuador can be seen in the background. | |
Question:
What did you do growing up?

Josh:
I grew up on Cape Cod and, from the time I was 12 till the time I started working for WHOI, I worked in a boat yard. I would help rent small boats, such as sunfish, lasers and catamarans. I've always had some connection with the ocean. As I got older, I wanted to get involved in mechanical engineering, working with fluid flows and machinery. But I believe my job is not my life; that my job allows me to enjoy life. I've been married now almost two years and my wife and I make sure to get away for awhile in the wintertime. We go snowmobiling in Maine with our families. I'm the youngest of four kids, and my oldest sister, Lynn, is celebrating her birthday on Sept. 19 so I'd like to wish her a happy birthday. I have three nieces and a nephew that range from 1- to 7-years-old. My family is very important to me and I love being able to work in the same area I grew up in, Cape Cod.