Glossary
Interviews: Captain Christopher Curl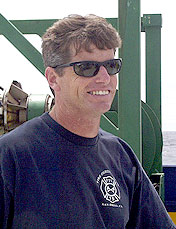 Christopher Curl is the captain of the RV Revelle for this expedition to the Galápagos. He's lived through a 'Perfect Storm' in the Pacific and has seen blue whales surfing ocean swells.

In 1998, Christopher Curl was captain on the Melville when the ship fell 40 feet into the trough of a wave that ripped off the starboard weather door and bent the port door at a 90-degree angle. A hurricane had whipped up the Pacific Ocean around him and the waves had converged upon each other forming one rogue wave and its accompanying trough. "When the aquarium cleared we saw the forward bulkhead on the bow had been knocked back six inches." After they heaved to, they sat there, while 50 to 60 foot swells and 20-foot breaking waves chopped up the water around them.

Chris works for the Scripps' Institution of Oceanography primarily as the Relief Captain for the Revelle and the Melville. He's also been in charge of Scripps smaller vessels the New Horizon and the Robert Gordon Sproul. "I jump around from ship to ship," he says. "Having my own ship, one of the two big ones, would be the next promotion, but I enjoy hopping around. I like the variety and change of scenery."


Chris Curl steering the RV Roger Revelle towards the Galápagos Islands.
As a boy growing up in a Navy family, Chris moved every four years. He lived in Connecticut, Hawaii and Rhode Island and Naples, Italy. Now when he's not at sea he lives in San Diego with his wife, Kim, their 11 year-old son, Cassidy, and daughter, Chrissy, age 7. "I love what I do," Chris says. "But I miss my family." He's often out to sea for two to three months and then back on land for a month and a half.

The best part about being a captain he says is not having anyone tell you what to do. His boss on land gives the captains freedom to run the ships as they see fit. "My responsibility is the overall safe operation of the vessel," Chris says. "I'm in charge of managing the vessel and making sure everybody is doing their job. Having a good crew is very important but you also have to keep an eye on them, instruct them and pass on your knowledge. And I do a lot of paperwork."

So what makes a good crew? Generally one that is easy going, he says, willing to learn, open minded and not afraid to lend a hand. "A good crew is always looking after each other, and of course a little experience and job knowledge never hurt."

Chris started sailing when he was 11 years old, racing 14-foot boats back and forth across Narragansett Bay, R.I. After high school in Italy, he attended the California Maritime Academy in Vallejo, Ca lif. A week after his graduation in 1983, he started working at Scripps as a seaman on the New Horizon.


Chris communicates to Ed Angeles, the Oiler, who is operating the winch.
It was aboard the New Horizon that Chris saw a mother blue whale and her calf come surfing down 30-foot swells about a quarter mile off the bow. The calf sounded, or dove beneath the surf, and then nosed its way up to the starboard bow, dove again and appeared on the port side. "The mother was about 300 yards off the starboard quarter, waiting for her inquisitive calf as though she was saying, 'Go ahead and check out that stinky noisy thing over there, and learn to avoid it at all costs.'"

Curiosity is partly what drove Chris into working for Scripps. "I'm interested in oceanography, always have been." He enjoys the opportunity to travel to unusual places and, along the way, "I feel like I'm improving humanity, helping to enlarge the knowledge pool."