Interviews: Alvin Expedition Leader Pat Hickey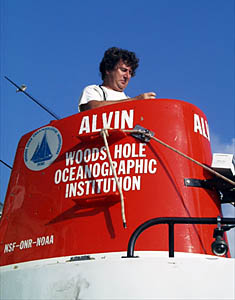 Pat checks some of the in Alvin's sail after Dive 3524.

Question:
When did you start working at WHOI and what is your main responsibility as Expedition Leader.

Pat:
In the mid-1980s, I was working in the offshore commercial diving business all over the world and I met someone who told me about WHOI and the Alvin program. I found out that WHOI was accepting applications for people to work in the Alvin Group, so I submitted an application. After about six months I was interviewed, and offered a job. That was in 1987 and I've been loving it ever since! I was promoted to Expedition Leader almost six years ago. Being Expedition Leader means that for everything having to do with Alvin while we are out at sea and operating, the buck stops with me! I work closely with the Captain of Atlantis in planning the joint operations of the sub. and ship for science, and I act as a primary liaison with the scientists who come onboard. I am also responsible for all the at-sea aspects of Alvin operations, logistics, certification, and pilot status.


Pat monitoring the Top Lab acoustic navigation system as he surveys the transponders that will be used to locate Alvin during each dive.
Question:
What did you want to be when you grew up?

Pat:
Well... to tell you the truth, it varied from day to day. School was OK, but I liked fixing things more than schoolbooks. Also, my Dad had an offshore oil service business and at a young age I got involved in many aspects of his business. I guess I knew when I was a teenager that I wanted to focus my future on offshore industries and diving.

Question:
Did you go to college to learn about diving? How did you get the skills you need to become Expedition Leader?

Pat:
When I was working with my father, I found that, not only did I like the commercial diving, but also I seemed to have a knack for understanding the equipment and how to make everything work. Well, you know how it goes - the better you get at things, the more work and opportunities become available to you. I took a year off from Mt. Royal College, where I was going to school, to work for a commercial diving outfit. That year turned into a career.

My experience has been gained over more than 25 years and has included graduating from the College of Ocean Engineering and working with a large number of commercial diving systems, Remotely Operating Vehicles (ROVs), and deep submersible technologies. I have learned a great deal about all the mechanical, hydraulic, electrical and science sensor systems on Alvin as well as other deep submergence vehicles while working in the Alvin program.

This type of work requires a lot of experience actually making things work in the deep ocean - you find out quickly what works and doesn't work - so experience is essential! Studying hard and learning the physics, mechanics, acoustics and electrical principles is also a must. Plus, working with many different scientists has given me a great view of the types of instruments they need to do their work and lots of information about many different oceanographic fields including marine geology, chemistry and biology. I frequently help them redesign their equipment so it works better to collect the data. I get a lot of satisfaction from helping people get the samples or information they need.

Question:
What do you like most about your job?

Pat:
The people. We get a new science crew onboard about every month and it is really great to share their ideas and enthusiasm. Being a part of the Alvin program and the scientific research that scientists are doing is great! You never do the same thing twice - the job is always interesting and challenging and I cannot think of a better way to make a living.

Question:
How did ALVIN get its name? How does it compare to other research submarines?

Pat:
ALVIN is named after Dr. Alan Vine (ALan VINe), even though many people think it is named after the chipmunk cartoon character! Dr. Vine was an engineer who worked at WHOI for many years, and he had a vision for a research submarine that could take scientists and engineers down to the bottom of the ocean. In the early 1960s he headed up the project with the U.S. NAVY to design and build Alvin. Since that time there have been many improvements to all the systems on Alvin. It can now dive down to 4500 m depth and is still the best research submarine in the world. It makes more dives (about 180-200 each year) and takes more scientists down to the bottom of the ocean every year than any other submersible in the world.