Interviews: Hans Schouten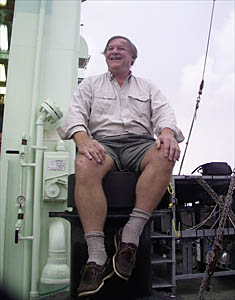 Hans is all smiles as he waits for

Alvin

to be recovered.

Question:
How did you get to go on this cruise?

Hans:
Dan Fornari, Jim Cochran and Maurice Tivey, my colleague in the G&G Department at WHOI, have been working on how to use geophysical data, mostly magnetics and gravity, collected near the seafloor with Alvin to learn more about the structure of the crust here at this fast-spreading mid-ocean spreading center. The combination of the geology observations that Dan makes, and the gravity interpretations that Jim does, along with my measurements of the magnetic variability over seafloor will give us new clues about what types of processes take place when the lava erupts and forms the crust at the East Pacific Rise. When Dan and Jim got their proposal approved for the gravity work they invited me along to work on the magnetic data. It was a great opportunity for me as I have never been down in Alvin or seen the volcanic seafloor on the East Pacific Rise first-hand.


Hans analyzing the magnetometer data collected by Alvin in the Hydrolab on RV Atlantis.
Question:
What do you hope to discover?

Hans:
New lava has a rather strong magnetic signal, compared to older lava. So magnetic measurements give us information about the amount of new lava in the thin crust of basalt that makes up the seafloor and the uppermost part of the Earth's crust. The magnetic information can help us determine whether the new lava is deposited only in a narrow zone at the spreading axis, or if it flows out to greater distances from the ridge axis.

Question:
How often do you go to sea?

Hans:
Not very often, perhaps once every year or two. It depends on the opportunities that come along. But I do love going to sea and collecting data. It is always a very rewarding and interesting experience.

Question:
What do you do when you're not at sea?

Hans:
I use data that I have collected as well as data collected by others to try to understand how lava is being deposited on mid-ocean ridges. As the ridges spread apart, ocean basins are formed and understanding how this happens may unlock additional secrets about plate tectonics and how the Earth works.

Question:
What do you do when you're not working and what do you do for fun?

Hans:
I live in a home built in the 1700's, so it takes a lot of time to take care of it and fix things. I also have five children and this keeps my wife and me very busy. Sometimes we go sight-seeing in interesting places, and we like to travel by boat or ferry if we can. I also love to read when I get a chance. One of my passions is cooking. I love to cook and have people over for dinner and interesting discussions.

Question:
What do you like best about what you do?

Hans:
I like to talk with other scientists and researchers from other fields about the discoveries we make and ideas we have. Often this can give us new insight into geological and geophysical processes that we may not have had by ourselves. I like to think creatively about the many puzzles that geology confronts us with. Solving them gives me great satisfaction.