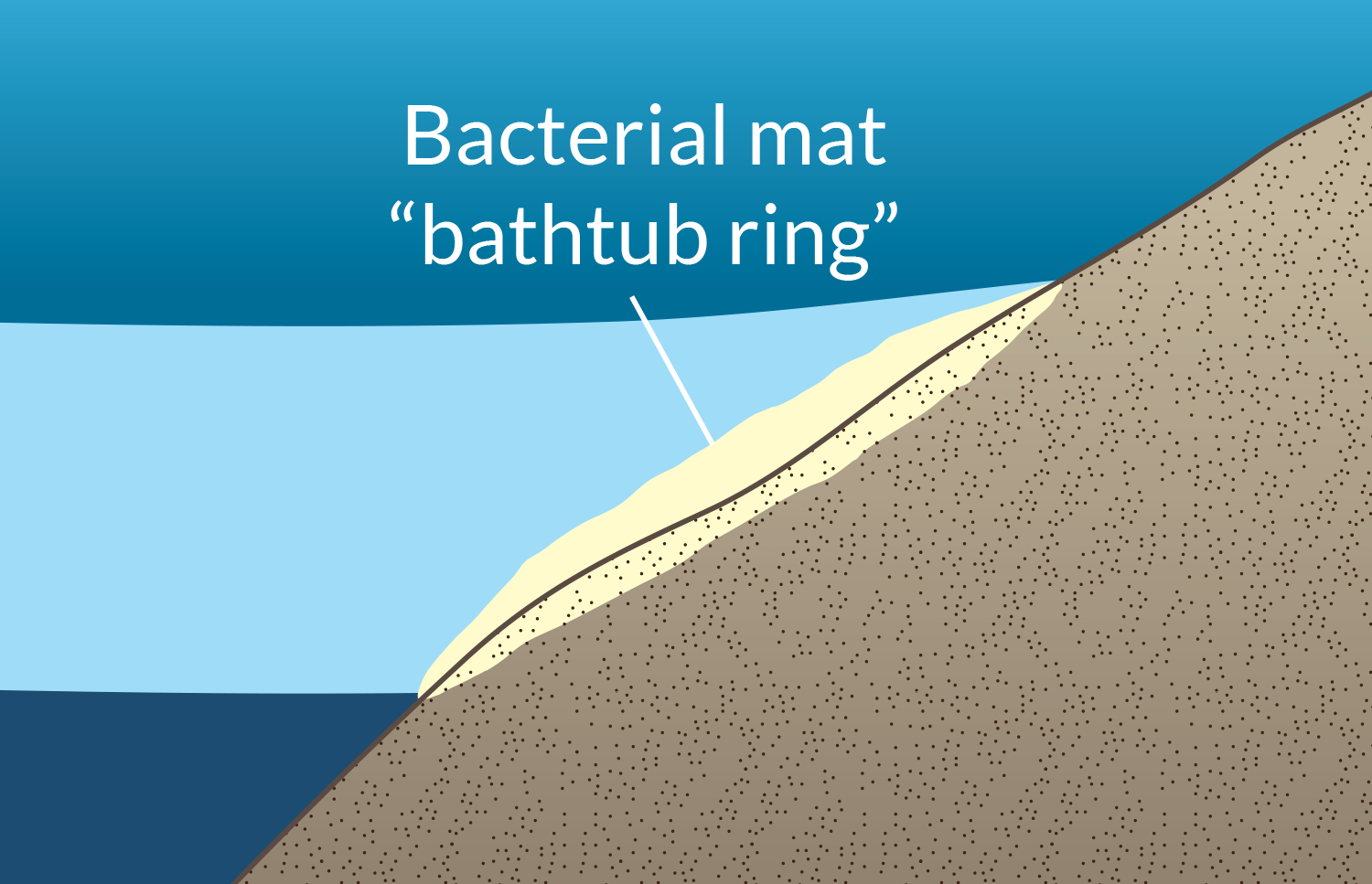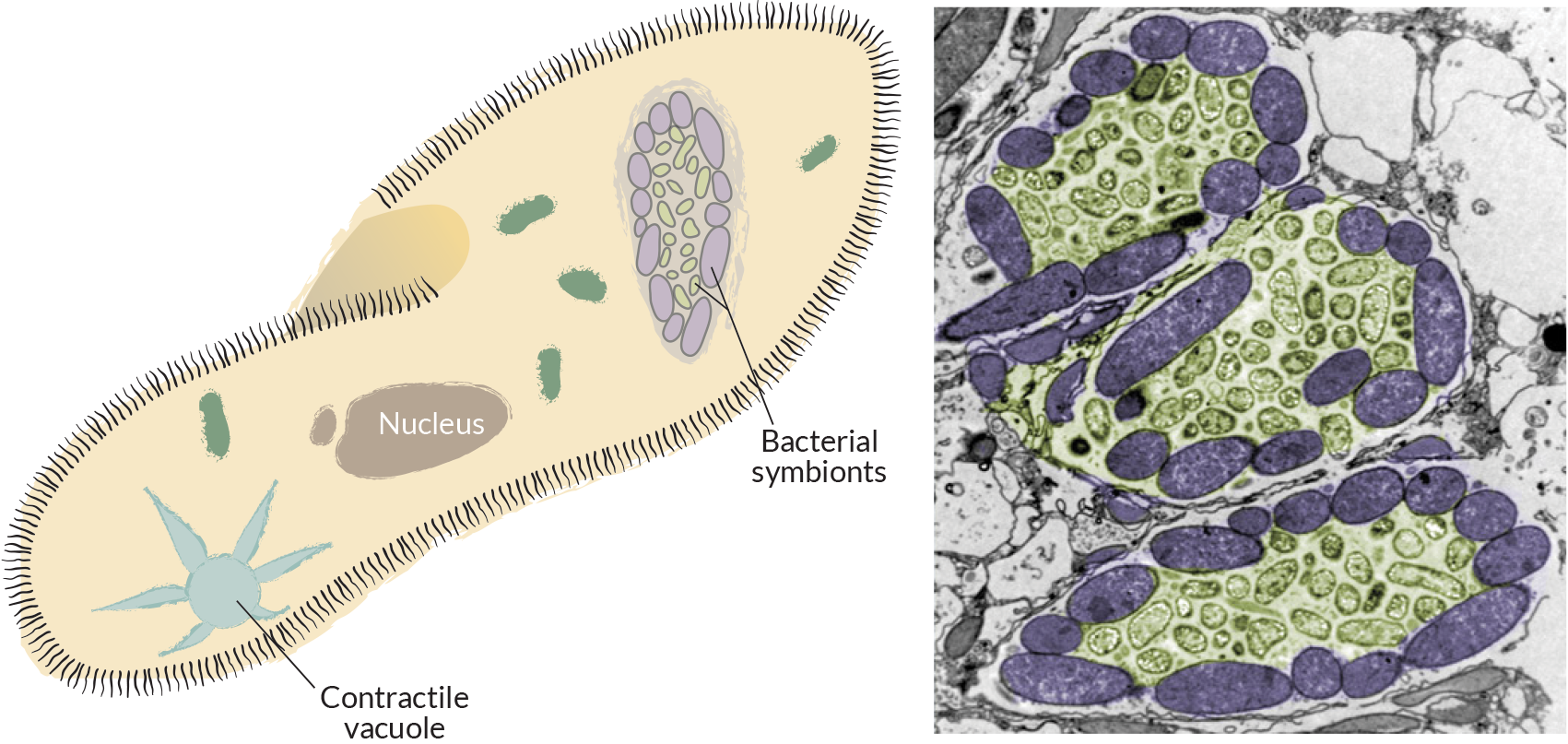 With no light or oxygen, very high salt concentrations, and very high pressure, DHABs seem like they should be "dead zones." Yet they are not—scientists have found that hundreds of different species of bacteria, archaea, and protists live there.
The halocline has the greatest number of individuals and species, but the super-salty, totally anoxic DHAB brine also has thriving populations of microbes. So far, scientists have mainly looked for microbes living in the water. The sediments, especially the "bathtub ring" where the halocline meets the seafloor, probably harbor even more different species.
Many protists are able to survive the harsh conditions in a DHAB by associating with bacteria that either cling to the outside of the protist or (as shown here) actually live inside the protist. The protists, in turn, may help the bacteria by shielding them from predators or by moving them to prime locations. This kind of symbiosis, in which both partners benefit, is called "mutualism."
At left, a diagram of a ciliate that hosts different kinds of bacteria in its cell (left). Colorized electron micrograph showing compartments inside a ciliate where different kinds of bacteria live (right).
Dr. Joan Bernhard discusses symbiosis.
How do they live there?
One way organisms survive in the extreme environment of a DHAB is by teaming up with other species. For example, a protist that would be killed by sulfide might be able to live in a DHAB with high sulfide levels if it hosts bacteria that detoxify the sulfide. In return, the protist protects the bacteria from predators and keeps them in a location where they can get the chemical substrates they need.
This would be an example of a mutualistic symbiosis, a close association between different organisms in which both partners benefit. Scientists suspect there is a wide variety of such associations in DHABs and their haloclines, and are beginning to test for them.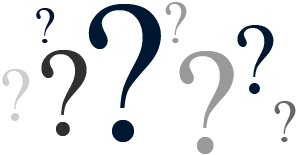 Prokaryotes
Most of the organisms that have been found in DHABs are bacteria or archaea (ar-KEE-uh). Bacteria and archaea are prokaryotes, single-celled microbes that do not have a nucleus or other organelles that are enclosed by a membrane.
Most of the prokaryotes in DHABs are not the same species that live in normal seawater. Many are not even similar to those found in other DHABs! Scientists think each DHAB has unique species because the chemistry of each basin is unique.
Bacteria and archaea that perform chemosynthesis are the primary producers of DHAB ecosystems—the bottom link of the food chain. They use energy from chemical reactions to convert inorganic compounds into organic matter that can  then be consumed by larger organisms, such as protists. Through their biochemical activities, these tiny organisms contribute to the global carbon, nitrogen, and sulfur cycles.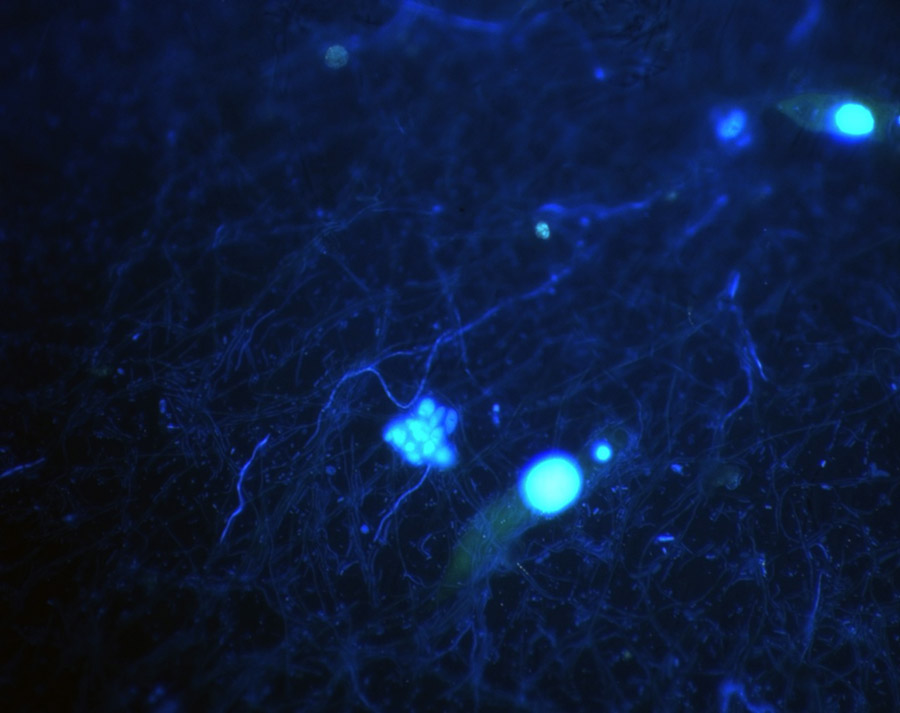 Single-celled Eukaryotes
DHABs are also home to many species of protists (sometimes called protozoa). Most protists are microscopic and single-celled, like bacteria and archaea, but they are eukaryotes, which means they have a nucleus and other organelles enclosed by membranes. Like protists in other environments, many of the protists in DHABs prey on bacteria and archaea. Others are scavengers that eat dead material or fecal matter.
The most common types of protists that researchers have found in DHABs are kinetoplastids, dinoflagellates, and ciliates. As with bacteria, it can be very difficult to do the tests necessary to identify species, because many protists are very sensitive to changes in temperature, pressure, and oxygen concentrations. Many of the organisms adapted to such high pressure do not survive the journey to the sea surface where pressures are much lower, making it difficult or impossible to determine whether they were alive in the DHAB or were dead and had been preserved by the heavy brine. New methods for collecting samples from the deep ocean are being developed so that the protists do not die during the transit to the surface, or can be preserved at the seafloor in a way that keeps them intact for analysis.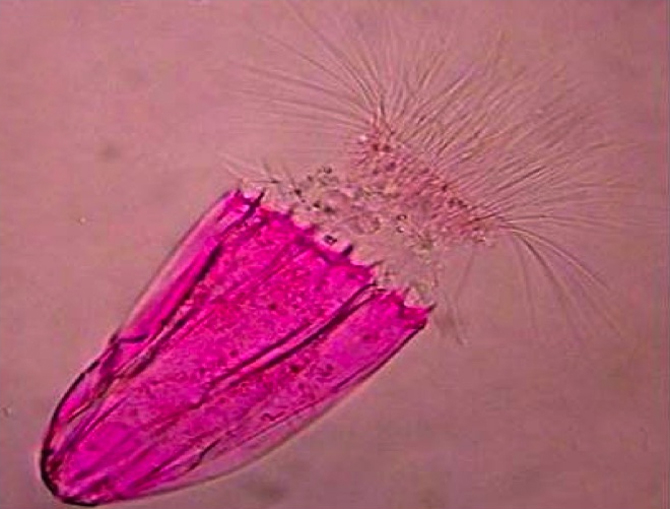 Dr. Joan Bernhard discusses Loriciferans.
Multicellular Eukaryotes
The conditions in DHABs are so hostile to life that it's been thought that multicellular animals, or metazoans, could not survive there. In particular, the lack of oxygen would seem to exclude them. Some metazoans can survive periods without oxygen by going dormant, but no metazoans are known to live their whole lives without oxygen.
But in 2010, researchers from Italy (Danovaro et al., 2010, BMC Biology 8:30) found three species of tiny predators called Loriciferans (lor-ih-SIFF-er-uhns) in sediment from L'Atalante Basin in the eastern Mediterranean. The researchers did several tests to try to find out whether the Loriciferans had been alive in the basin or had fallen into it and been killed and preserved by the ultra-salty brine. They concluded that the Loriciferans were living and reproducing in the basin. More samples and tests are needed to confirm that conclusion. If it turns out to be correct, this would be the first example of a multicellular animal that lives its whole life in a place that lacks oxygen.