Interviews: Third Mate Adam Seamans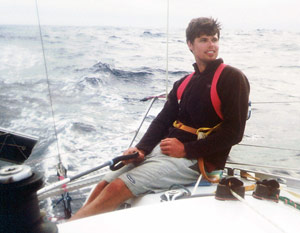 Adam Seamans, who sails as third mate on Woods Hole Oceanographic Institution vessels, took a solo 15,000-nautical-mile journey in the Atlantic Ocean last year on a 21-foot sailboat. He celebrated his 26th birthday en route.

Question:
How did you become interested in sailing and the sea?

Adam:
I grew up north of Boston, in Beverly, Massachusetts, and I sailed with my grandfather, father, plus my two brothers and two sisters. I think my mom liked it because it got us all out of the house. I liked it because it was a sport that I could always learn from and improve. I enjoyed the technical aspects, like being able to change the shape of a sail.

Question:
How did that lead to a career of sailing on research vessels?

Adam:
By my senior year in high school, I still had not found a college I wanted to attend, but then a friend invited me to visit Maine Maritime Academy. It clicked, so I took an interview and sent in my application. It was the only college I applied to, and it worked out.

Adam rejoices in Salvadore, Brazil, at the end of the race portion of his sailing trip. The eight-month voyage took nearly three years of preparation.
Question:
How is a maritime academy different than a regular college?

Adam:
It's set up a lot like a ship, with a hierarchy and ranking system. As a freshman I was mopping floors and the upperclassmen were in charge. I was taking a lot of navigation courses, but also humanities and math, so I came out with a Bachelor of Science degree as well as a third mate license in May 2000.

Question:
Had you heard of the Woods Hole Oceanographic Institution when you graduated?

Adam:
I knew of it, and I knew I wanted to work for WHOI, but I also wanted to try different things. So I went to work on a chemical carrier. It was exhausting work, 12-hour days of unloading and loading chemicals. I was there for three months, traveling between New Jersey and Texas, and as soon as I got off the ship I gave WHOI a call. I got an offer to work as an ordinary seaman on the Knorr. After a few months I was offered the opportunity to sail on my third mate's license.

Question:
What are the primary responsibilities of the third mate on Atlantis?

Adam:
I'm responsible for the 8 a.m. to noon navigation and science operations watch. I'm also the safety officer. I have to make sure that all required emergency and safety gear are routinely tested and inspected. I also stand watch from 8 p.m. to midnight, during which time I position the ship for the scientists' night work.

Question:
Why did you decide to do a sailing race in the Atlantic Ocean?

Adam:
I wanted to do a long-distance ocean race, and I wanted to push my sailing abilities. I learned about a race called the Mini Transat while at the Maine Maritime Academy. It's a race with two legs. The first sails from France to the Canary Islands for 1,200 nautical miles. The second legs sails from the Canary Islands to Brazil for 3,300 nautical miles. All the boats were 21 feet long, and all the racers sailed solo.

Question:
What was your route, including the race routes?

Adam:
To get to the start, I wanted to sail from South Carolina to France because I figured it would be a good way to practice for the Mini Transat. But then my mast broke and I had to stop in Bermuda to get that fixed. When I pulled into the dock at Bermuda, I heard on the radio that there was a ship called Atlantis coming in. I thought, 'no way that's the Atlantis I know.' But sure enough, it was the WHOI ship. Some of the scientists and crew helped to get my mast fixed by lending me tools and support. I even joined them for a party. From there I sailed with a friend to the Azores and on to Spain. I did the Mini Transat race, and then sailed from Brazil then to the French island Guadeloupe, then to the Bahamas to Ft. Lauderdale, Florida. If you include the race qualifier I did from Maine to South Carolina, the total was about 15,000 nautical miles. Basically I was at sea from May to December of 2003.

Question:
You spent so many days and weeks alone at sea. What was that like?

Adam:
There were only a few times when I really wanted someone with me, to share a sunset or a particular moment, like when I had a good spinnaker set. Otherwise I was fine with just sailing. I did keep written and video logs, where I filmed myself talking about high or low points experienced on the trip.

Question:
What lessons did you learn?

Adam:
I learned a lot of respect for the elements. During this type of racing, it's safety first, speed second. I was solo racing, and in charge of my own safety. The ocean sure didn't care about what happened to me.

Question:
What was your hairiest moment in the race?

Adam:
When I put the spinnaker up and got caught in a lot of wind. The wind just blew up, and I had to hang on and ride it out for like six hours. There was a lot of damage to boats in the racing fleet that day.

Question:
Rolling your boat in the middle of the night and losing your mast, and then having to sail 300 miles to Bermuda without a mast… that wasn't the hairiest moment?

Adam:
Strangely enough, since it happened so fast, it wasn't that bad. I'd say that losing my mast was my most frustrating moment. And my most discouraging moment was losing the mast again off Ft. Lauderdale, Florida, about 20 miles from the end of the trip. I learned that there was a failure in the standing rigging.

Question:
What's next for you, after we end this expedition?

Adam:
I'm getting ready to sell my sailboat this summer. It's a racing boat, not a leisure craft, so it doesn't make sense for me to keep it. Then I'm heading out on Knorr in the beginning of July for research in Newfoundland and in the North Atlantic. The racing was everything I had hoped for… now I just want to take it easy.

-By Amy E. Nevala