Interviews: DeepSea Power and Light -- Mark Olsson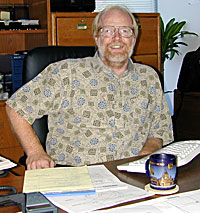 Mark Olsson is president of DeepSea Power and Light (DSPL). Mark provided several of the specialized video cameras on ROV Jason to produce the video and frame-grabbed images of the seafloor used by the scientists on this expedition. He became interested in inventing deep sea cameras at the age of 16 and has been at it ever since.
The lights, cameras and imaging equipment we use on ROV Jason and Alvin are specially designed, since regular photographic and lighting equipment would quickly crumble in the cold, high pressure of the deep ocean.

For these inventions we look to Mark Olsson, the founder of the San Diego-based company DeepSea Power & Light (DSPL). His company makes many different types of deep submergence imaging and lighting products used on Jason and Alvin.
Will Sellers, Chief Pilot of ROV Jason gives the thumbs up to the DSPL cameras and lights used on Jason. He is pointing to the two primary cameras on the pan-and-tilt mechanism which are used by the Jason pilots for detailed sampling operations.
During the past decade, Mark has worked closely with members of the WHOI Deep Submergence Operations Group (DSOG) to develop better deep ocean imaging systems. Even though Mark is not on this expedition, he loaned three of his new video cameras to the Jason team to test. The seafloor video and frame grab images we post on the Dive & Discover website are taken with these DSPL cameras.

Mark founded DeepSea Power & Light in 1983 out of his garage. He created the company with the goal of providing high quality and innovative products to the oceanographic community.

The first product that emerged from his workshop garage was an underwater battery to power deep sea instruments called a 'SeaBattery'. A few years later, Mark developed incandescent lights for Remotely Operated Vehicles (ROVs), followed by underwater video cameras and special high intensity 400 to 1200-watt metal halide (HMI) gas discharge lights.

The powerful HMI lights, originally developed for Alvin and Jason, "set the standard for deep ocean, high quality imaging," says Mark. They have been used for historical shipwreck explorations, such as the R.M.S. Titanic expedition and for major motion picture filming, including the movie Titanic.
Two DSPL cameras on Jason's pan-and-tilt mechanism.
DeepSea's products are also used for deep ocean rescue and recovery vehicles, offshore oil development, scientific research and on the deep diving submersibles Alvin, Sea Cliff, Turtle, Nautile, Mirs I & II, Kaiko and the Shinkai 6500.

Mark developed an interest for the ocean and inventing at an early age. Mark grew up in Arizona, but his family vacationed by the beach in San Diego, California. An adventurous child, Mark spent his days snorkeling and exploring the ocean.

When Mark was 13, his family moved to Mexico, where his snorkeling adventures continued along the Mexican Pacific Coast. Mark wanted to become a professional photographer, inventor or scientist when he grew up. Although his dreams of becoming a photographer faded, his desire to become an inventor remained.

In 10th grade, Mark made an underwater camera housing with the help of a book titled "How to Build an Underwater Camera." He used the camera when he went snorkeling in Mexico. It marked the beginning of his career building underwater imaging systems.

Mark spent his last year of high school in the San Francisco Bay Area and enrolled in the Mechanical Engineering program at University of California, San Diego (UCSD). A freshman oceanography course reinforced his passion for the sea and determined his future career.

One of the course's guest lecturers was an oceanographer. Professor John Isaacs spoke of the ocean's wonders and presented intriguing photos of the deep sea. The photos captured Mark's interest.

"After that lecture, I knew I wanted to study at Scripps Institute of Oceanography with John Isaacs as my teacher and mentor," says Mark.

He joined the Scripps team in 1977 after graduating with his Bachelor's degree in Mechanical Engineering from UCSD.

When John Isaacs died in 1980, Mark continued his studies at Scripps under Dr. Fred Spiess. Dr. Spiess invented one of the first towed ROV systems called DeepTow that is still in use today. Mark became part of Scripp's DeepTow Research Group. In 1981, he was a member of the group's expedition team that searched for the ill-fated R.M.S. Titanic.

Mark created DeepSea Power & Light out of a desire to develop products that would help open up the deep ocean to everyone and help scientists study it. Mark says that his "aspirations and dreams have been achieved. My products have visited the deepest parts of the ocean and found a home in intriguing places around the world."