Interviews: Ship Medic Janet Costello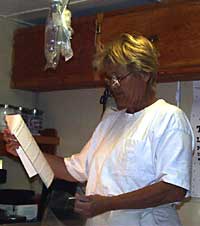 Ship medic Janet Costello sorts medical files for the more than 50 scientists and crew she cares for on the Knorr. "Organization is key to my job," says Janet.
In her seven years as a ship medic with the Woods Hole Oceanographic Institution, Janet Costello has nursed ailments on every ocean near every continent. Chemical burns in Antarctica and Australia. Heart irregularities offshore Africa. A broken hip near the United States.

You can bet she has seen a whole lot of seasickness.

On board the WHOI research vessel Knorr, she treats crew and scientists in what has got to be one of the world's smallest but best equipped hospitals. She is meticulous in its organization. A 14-page medical inventory sheet lists dozens of over-the-counter and prescribed medications, from Alka Seltzer to the antiobiotic Zithromax.

Two beds stand in the dorm-room-sized hospital at the ready near cardiac monitors, oxygen tanks and a defibrillator.

On the ship she is a one-woman medical show for dozens of people, bandaging broken toes one day, stitching a head the next, soothing a belly the following day.

The daughter of a dairy farmer, Janet spent her childhood in upstate New York. She saw the ocean for the first time at age 18 on a visit to Boston with her sister. "I fell in love with it. To me it always represented a mode of travel," she says.

Years later, while working at a hospital in Florida, she combined her interest in the sea with her medical training. "One night I heard a physician tell a story about working on a cruise ship. I thought, 'wow', I'd like to do that."

A three-week temporary stint with Norwegian Cruise Lines turned into a seven-year job. Her career in emergency nursing, intensive care and medical experience at sea helped when WHOI called five years later in 1991, seeking a medic to assist during remote research expeditions.
Janet maintains an open door policy 24 hours a day, seven days a week. Since scientists and crew work around the clock, she could be needed at anytime to help with a medical emergency.
This Knorr expedition to the Indian Ocean is one of about two dozen cruises she has completed with WHOI.

Human safety is the number one priority on research vessels and the Knorr is no exception. A safety meeting to discuss fire extinguisher use, ship evacuation and other procedures happens within 24 hours of boarding. Sea-going veterans caution rookies on keeping fingers clear of slamming steel doors and to avoid sandals on deck, which expose toes to falling objects.

As Chief Jason pilot Will Sellers cautions a first-time expedition member, "there is no grass here to tickle your feet. Everything on a ship can hurt."

Despite the ship's safety record, Janet says, occasionally stomachs hurt, teeth ache and scrapes occur.

"Guys are up high, fixing rigs. They are down in the engine room, working. They can fall, get electrocuted - a lot can happen. A ship can be a dangerous place," she cautions.

Since everyone aboard the Knorr completes a physical exam before departing, the population aboard is generally healthy. Janet's job is to be prepared when the unexpected occurs.

"You can sit out here for ten years and nothing will happen," she says. "Then one day we'll get rough seas and a guy splits his head open on the stairway. I always need to be ready."

She maintains an open door policy 24 hours, 7 days a week.