Glossary

Interviews: Maya Tolstoy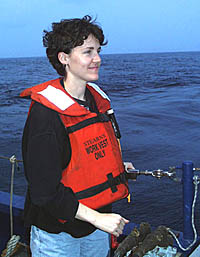 Maya controlling the J-frame during rock coring operations on RV Melville on the East Pacific Rise near 3°N latitude.
Question:
Did you always want to be a scientist when you were little?

Maya:
My dad is a scientist, so I was always exposed to science and enjoyed it, but growing up I was more interested in acting, politics, flying, and travel. Funnily enough, science includes all of these to some extent! Ever since I can remember, I wanted to be an actor; something I still do on the side, but it's hard to pay the bills that way. My parents always encouraged me to pursue a career in science, and I was drawn into marine geophysics because I liked going to sea and was fascinated by volcanoes and earthquakes.
Maya keeps careful records during her watch in the Control Van.
Question:
Where did you go to school and how did you end up at Lamont-Doherty?

Maya:
I received my undergraduate degree from the University of Edinburgh in geophysics in 1988. I spent the summer of 1987 at Scripps Institution of Oceanography as an undergraduate research fellow, and found I enjoyed research, and loved going to sea. After I graduated, I wanted to move back to the US and also wanted to travel. I figured that graduate work in marine geophysics would let me continue to do research in an area I liked, and would also give me opportunities to travel and go to sea. I was accepted at Scripps, and while I was there I went on 16 cruises in various parts of the Atlantic and Pacific Oceans. I specialized in marine seismology, and worked with both seismic data and seafloor instrumentation. I really enjoy working with seafloor instruments, like the ocean bottom seismometers that I used for some of my thesis experiments. After I graduated from Scripps 6 years ago, I continued to do research there as a post-doc and then, in 1996, was awarded a post-doctoral fellowship at Lamont-Doherty Earth Observatory, which is part of Columbia University. Since 1998, I have been an associate research scientist there, though this last year I have been a visiting scholar at UCLA.

Question:
What types of experiments have you been doing recently, and what were some of your best and worst experiences at sea? Have you ever been in any really rough weather trying to do your work?
Maya and Mike Perfit reviewing the DSL-120 sonar data in the Main Lab on RV Melville to plan for Argo II camera lowerings.


Maya:
Four days before this cruise, I arrived in the Azores at the end of a month long trip in the Atlantic. Debbie Smith (of WHOI) and I were picking up data from a hydrophone array that is listening to Mid-Atlantic Ridge earthquakes. This is the same type of array as is being used here in the Pacific, and we set it out it last year with Chris Fox from NOAA.

My best experiences at sea are being on really friendly ships. Some ships have a real sense of family on board, particularly among the crew, and sometimes they will include you in their family, and that is something I really appreciate and enjoy. It takes a lot of character to spend that much of your life at sea, and I have met some of the most interesting and enjoyable people out at sea.

My worst experiences at sea are probably being on trips with unfriendly people. Some scientists just don't cope with going to sea very well, and it brings out their worst side! There are also scientists who don't really think that women should be at sea or making the decisions, and this can be very difficult to deal with. Fortunately, as you get more senior, and have more control over your research, you get some say in who you do and don't go to sea with!

Yes, I have been in all sorts of horrible weather at sea. The worst seas were probably at 50°S, half way between Australia and Antarctica. Huge waves (> 30 feet), and winds so strong that we could barely go forward. I quite enjoy these days once I get my sea legs. I have been seasick only once, and that was a miserable experience, but it still takes me a few days to feel normal. But the power of the ocean is quite awe-inspiring.

Question:
Do you have any advice for women who want to pursue a career in science?


Maya is the watch leader on the 0400-0800 hours watch. Here she discusses the progress of Argo II operations with PJ Bernard of the WHOI Deep Submergence Operations Group.
Maya:
I think in today's world, being scientifically literate is very important for everyone, so I would encourage anyone to get a good basic background in the sciences regardless of what profession you end up working in. For a woman who wants to pursue a career in science, I would say first of all, be sure that you are very passionate about the work, because it requires a lot of dedication. For many fields of science, it is still a male-dominated profession, so you will encounter discrimination and frustrating roadblocks. Secondly, I would say to look very carefully at where you go to school, particularly for graduate work, and talk to other women who have been in the programs you are interested in. The people you end up working with can make such difference as to whether you are happy in your research or not.


Back to main interviews page