Interviews: Dan Scheirer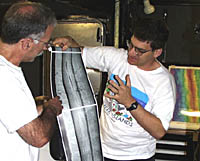 Dan Scheirer (right) and Mike Perfit interpret the DSL-120 sonar data "hot off the press" in the Control Van.
Question:
When did you know you wanted to be an earth scientist?

Dan:
At the age of 7, I knew I wanted to be a geologist. I was a rock hound as a child, and when my family would travel, I would collect rocks from the new places we went to. I also liked to go to "rock swaps". I got my first rock hammer as a present when I was 11. When I was little, I was usually the youngest rock collector in any group of rock hounds.
Dan discusses today's plan for the sonar surveys and data processing with Scott White (center) and Gregg Kurras (right).
Question:
Why did you choose marine geophysics as your field of research?

Dan:
After I earned my bachelors degree at Princeton University, I decided to go to graduate school in geophysics. I like both geology and physics and I thought that combining them would be fun. The ability to apply many different math and physics techniques to solve a problem was also appealing to me, and geology is a science that really requires the application of many different tools to solve the research problems; math, physics, chemistry, and even biology some times - that's what makes it so fascinating. So, I decided that the chance to go to sea would tie together a lot of my scientific interests. I chose to attend the University of California at Santa Barbara for graduate school because Dr. Ken Macdonald, Rachel's husband, was a professor there and was doing many interesting experiments and had lots of cruises planned.

Question:
What things to you like or dislike about being at sea?

Dan:
There are more things to like about going to sea than to dislike. The personal interaction is great. The sense of community on board one of these cruises is greater than what you'd normally experience in any other workplace. Everyone lives and works closely together on the ship; you get to know your colleagues very well and often make long-lasting friendships and develop research programs with people you meet. Also, there are the side benefits of being able to see some unusual and exotic places. I've had the opportunity to visit Easter Island several times, and I've been looking forward to visiting the Galapagos Islands for a long time (something we will do on this cruise later in April). Of course, I do miss Allegra, my wife, a lot while I'm out at sea, that's one of the hardships of being a marine scientist- time away from family.


Dan points to where we are on the East Pacific Rise axis on a bathymetric map. He is explaining to Kate Gans about how the morphology, or shape, of the mid-ocean ridge is an indicator of how fast a ridge is spreading and whether it is volcanically active. When the ridge is wider and the crest is shallower it means that more lava has erupted there.
Question:
How did you get to go on this cruise and what is your job on board during this cruise?

Dan:
Dan Fornari and I have been collaborating on other DSL-120 sonar data from the Mid-Atlantic Ridge for the past year or so. We wrote a paper last year about some of our interpretations and techniques for analyzing the sonar data and he invited me to participate on this cruise to share in the search for new lava flows on the East Pacific Rise axis and analysis of the sonar and other data we will be collecting. My job is to work with Steve Gegg and the other data processors on board to make sure that all of the digital data we collect are properly processed using the computers on board. This includes the DSL-120 sonar imagery of the seafloor, measurements of the sea water properties based on the MAPR data and the electronic still camera images. I get to look at lots of different types of data involving the all aspects of the research program on this expedition which makes it very interesting.




Back to main interviews page