Interviews: Professor Rachel Haymon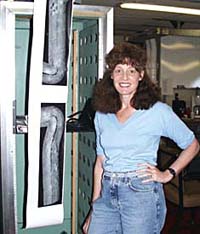 Rachel discusses the interpretation of sidescan sonar data with students in the Main Lab on board the RV Melville.
Question:
What did you want to be as a kid?

Rachel:
I wanted to be many different things: an astronaut, an archeologist, a paleontologist (someone who studies fossils), an oceanographer, a musician, even a trapeze artist! It was hard to choose.

Question:
What are your main responsibilities on board during this cruise?

Rachel:
As a watch leader, I am responsible for all data collection during the two watches I stand every day, from 0000-0400 hours and from 1200-1600 hours. If we collect any hydrothermal mineral samples from the seafloor, I will describe and preserve them on board, and analyze them back at my lab. I will also be teaching a seminar course to students on the ship about mid-ocean ridge processes and the sites on the East Pacific Rise that we will survey during the cruise. I will help the other senior scientists on board make sure that we all have a great time learning about the seafloor, because people learn more and are more creative in solving problems when they are happy in what they are doing! I want all of us, and especially the students who are aboard, to experience the thrills of making discoveries about the ocean floor.
Rachel and Clare Williams discuss log keeping while on watch in the Main Lab.
Question:
What do you do on a typical day working at sea?

Rachel:
I look at data that have already been collected for the areas we will be surveying to determine the best way of making new and useful observations. I will be working with the WHOI Deep Submergence Group on board who are running DSL-120 and Argo II to be sure we collect the best data we can for the different survey areas. I also try to notice and point out to others any particularly interesting features, and discuss their significance so we can use this new information to understand the volcanic, tectonic and hydrothermal processes on the East Pacific Rise.

Question:
How did you end up working at UCSB?

Rachel:
I was an undergraduate geology major at Rice University in Texas, and then moved to California to get a doctorate degree in oceanography at Scripps Institution of Oceanography, at UCSD. In 1982, I became a researcher at UCSB, and then later became a Professor there.


Tim Head learns about the data logging computer during Rachel's 1200-1600 hr watch.
Question:
What do you like most about your job or being at sea?

Rachel:
I love exploring unknown terrain, and the seafloor is the least explored portion of the Earth. There is nothing like the feeling of seeing something that you know has never before been seen before by any other human being. There is also the joy of bringing that new knowledge to others. Long after people no longer remember that I lived, they will remember the things that I helped to discover. This is very meaningful to me. It is also a challenge to collect data from the vast and dark ocean depths, and I get pleasure both from the accomplishment, and from sharing that sense of accomplishment with my colleagues. Going out to sea means you work as part of a team, and I love working with such talented and resourceful people. We become so close that they feel like family. Being out in the middle of the ocean makes you appreciate the large scale of nature, huge skies, deep waters and spacious sea all around. I enjoy a sense of connection to the Earth from studying ocean processes. We live on an ocean-dominated planet, and it affects our lives everyday in ways that I have learned to appreciate. Going to sea has also allowed me to travel to many interesting places all over the globe. I guess there are a lot of things that I like about my job!


In the Control Van, Rachel and Clare discuss how and when the positions of the ship and the DSL-120 sonar should be plotted on a map during the start of the sonar survey.
Question:
What do you like least about your job or being at sea?

Rachel:
It can be stressful to leave your personal life behind for months at a time. We work long hours at sea, seven days a week, and I become very tired on long trips. Sometimes I notice the lack of personal space and privacy in the close confines of shipboard life. Also sometimes I feel truly sad at the end of an expedition because I do not know if I will see some of these amazing places on the seafloor again, or ever get the chance to find out things that I want to know about them. And also, at the end of the sea trips you have to say goodbye to your shipboard friends, not knowing when you will see them again.
Back to main interviews page