Glossary

Interviews: Captain George Silva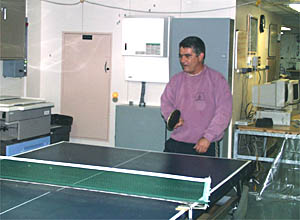 Captain Silva takes a break with a game of Ping-Pong.

Question:
What are your main responsibilities as Captain of a ship?

Captain Silva:
My primary responsibility is to make sure that the ship and all the operations onboard run safely and efficiently. This involves worrying about the stability of the ship, the safe navigation of the ship, as well as how different departments on the ship carry out their jobs. The key to doing this successfully is good communications with the heads of each department on RV Atlantis. The department heads are Chief Engineer Kevin Fisk, Chief Mate Mitzi Crane, Bosun Gerry Graham, and Steward Carl Wood. With their help, I try to make sure that each science voyage is successful and memorable.

I am also the person who represents the ship and Woods Hole Oceanographic Institution while we are in different ports both in the United States and in foreign countries. I also try to help the crew to advance in their careers and work their way up the ladder to positions of greater responsibility onboard. Also, I try to make sure that the crew and scientists onboard are happy and have a good and rewarding experience during each cruise.

Question:
So what did you want to be when you grew up, and how did you end up being a ship's captain?

Captain Silva:
I did not plan on going to sea, but I wanted to be a policeman when I grew up. I was always interested in mechanical things, much more than classwork in school, and I wanted to see the world. I was given the opportunity to enroll in the Massachusetts Maritime Academy to learn all about ships, and to choose between learning about the Engineering or Deck Departments. Initially I chose the Engineering Department because of my interest in mechanical things. However, I decided to switch to the Deck Department, and graduated with a 3rd Mates License. While gaining a lot of experience and time at sea on other vessels, I also studied and received my Captain's license when I was 30 years old.

Question:
What kinds of ships have you worked on?

Captain Silva:
I have worked on many different types of ships, including ferryboats that ran between Block Island and Point Judith, Rhode Island, dredging ships that worked for the US Army Corps of Engineers all over the US, and large container ships and bulk carriers that went all over the world. The last job I had before joining Woods Hole Oceanographic Institution was for a company called ARCO Marine on large oil tankers off Valdez, Alaska. The job that gave me the skills in ship handling and really helped me in running a research vessel was the work I did on the dredging vessels.

Question:
When did you start working for Woods Hole Oceanographic Institution (WHOI) and how did you find the job?

Captain Silva:
In 1995, I decided I wanted to move away from commercial shipping, so I went back to the Massachusetts Maritime Academy to find out whether they knew of any positions. At that time, WHOI was looking for a relief Chief Mate on the RV Knorr for two months, so I went out to join the ship in Singapore. This turned into a few more months when the chief mate I was relieving delayed his return. In 1998, I relieved Captain A.D. Coburn as Captain on the RV Knorr, and now am relieving Captain Gary Chiljean, who is on vacation.

Question:
What differences do you see between working for a commercial company and working on a research vessel, and do you enjoy your job?

Captain Silva:
I feel a real sense of pride that I am contributing to oceanography and to the knowledge of the oceans when I am part of scientific expeditions. I enjoy seeing new students being trained to study the oceans, and on every cruise I meet a wide variety of people from many colleges and universities. I also like being at sea, observing the marine life, and traveling around the world. The only part that never comes easy is leaving my family at home.

Question:
What do you like to do in your spare time?

Captain Silva:
While I am on the ship, I read, play Ping-Pong, and like to fish when it is possible. When I am at home, I also go fishing, but like working in my vegetable garden and doing home projects. I also have just bought a Harley Davidson motorcycle and expect to have fun with that!